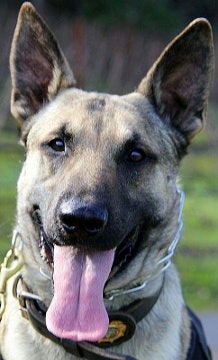 The Trinity County (CA) Sheriff's Office said one of its K-9s was stabbed Thursday morning by a suspect in a marijuana grow, reports KRCR.
K-9 Johnny had entered the marijuana grow with his handler when multiple suspects started to run from the area. The dog was able to apprehend one suspect, whom officers detained, and then went after the second suspect who was carrying a 10-inch knife and a pistol.
Officials said the second suspect stabbed K-9 Johnny in the left side of his neck with the 10-inch knife and ran into the woods. Officers recovered the knife and pistol but were not able to locate the second suspect.
A California Highway Patrol helicopter was able to pick up K-9 Johnny and his handler and transport them to the Weaverville Airport where they were transported to a local animal hospital. K-9 Johnny suffered a severe laceration to the left side of his neck but was reported in stable condition.