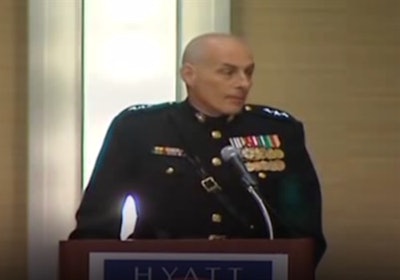 VIDEO: Trump Taps Retired Marine General to Run DHS
President-elect Donald Trump has chosen retired Marine Gen. John F. Kelly to run the Department of Homeland Security, turning to a blunt-spoken border security hawk who clashed with the Obama administration over women in combat and over plans to close the prison at Guantanamo Bay.
Kelly, who retired in February as chief of U.S. Southern Command, would inherit a massive and often troubled department responsible for overseeing perhaps the most controversial part of Trump's agenda: his proposed crackdown on illegal immigration. DHS is the third-largest Cabinet department, with more than 240,000 employees who do everything from fight terrorism to protect the president and enforce immigration laws.
Kelly, 66, is a widely respected military officer who served for more than 40 years, and he is not expected to face difficulty winning Senate confirmation. Trump's team was drawn to him because of his Southwest border expertise, people familiar with the transition said. Like the president-elect, Kelly has sounded the alarm about drugs, terrorism and other cross-border threats he sees as emanating from Mexico and Central and South America.
Known inside the Pentagon as a thoughtful man who continued serving his country even after his son was killed in combat, Kelly has talked in stark terms — much like Trump — about the threats America faces in the Middle East and beyond. In speeches, he has expressed frustration with what he calls the "bureaucrats" in Washington, and he described the military's counterterrorism operations abroad as a war against a "savage" enemy who would gladly launch more deadly attacks.
His blunt manner led to conflicts within the Obama administration, where he served more than three years as Southern Command chief — overseeing military operations across Central and South America — and as senior military adviser to defense secretaries Robert M. Gates and Leon E. Panetta, the Washington Post reports.