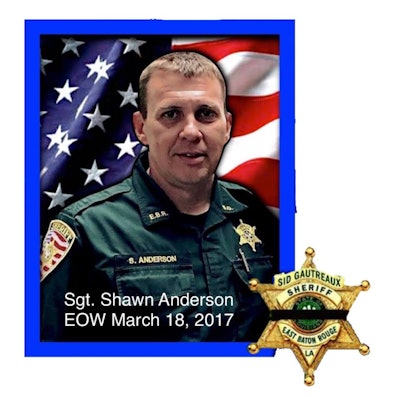 An East Baton Rouge Parish (LA) Sheriff's deputy was killed Saturday night while responding to a call about an alleged rape at a hair salon.
A Sheriff's Office statement posted on Facebook said two deputies responded to a call about a rape at Classic Cuts. Inside the business, they struggled with a suspect and shots were fired.
Sgt. Shawn Thomas Anderson, 43, was mortally wounded in the incident. The suspect was also wounded and transported to a local hospital for treatment.
Louisiana State Police will be conducting the investigation into the shooting incident.
"Our hearts are broken as we grieve for one of our brothers," Sheriff Sid Gautreaux said. "We ask for your continued prayers and support during this difficult time as we mourn the loss and honor the memory of Sgt. Shawn Anderson."
Sgt. Anderson began working at the East Baton Rouge Sheriff's Office in May of 1999. He served in various divisions including Parish Prison, Narcotics, K-9, Emergency Services Unit, Maritime Response Team and SWAT. Sgt. Anderson also served in Uniform Patrol at Burbank, Scotlandville and most recently Kleinpeter substation.
Sgt. Anderson was presented the Life Saving Award in 2010 for saving the life of a woman on Old Mississippi River bridge. He was also recognized in 2014 for serving more than 60 high-risk warrants in 2013 as a part of the agency's SWAT unit with no injuries or shots fired. In March 2016 he was recognized for delivering a baby on the side of the road.