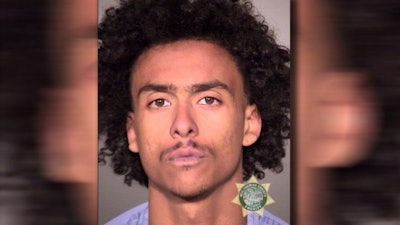 Fellony Hudson is doing his best to live up to his name.
Hudson, a 22-year-old man from Salem, OR, is accused of felony kidnapping, felony eluding, felony possession of a stolen vehicle and nearly a handful of misdemeanors after being pursued by police in Washington and Oregon.
Hudson appeared in court Wednesday afternoon in Multnomah County Circuit Court where he was formally charged with a total of 3 felonies and 4 misdemeanors, NBC4 reports.
The charges stem from a Tuesday incident that began in Vancouver, WA, and ended near Portland, OR.
In that incident Vancouver officers received a report of a female being assaulted in a moving vehicle.
A vehicle pursuit ensued after the driver failed to stop for the officers' lights and sirens.
The pursuit ended in Gresham, OR, after officers deployed spike strips.
Jail records indicate the woman inside the car with Hudson was his ex-girlfriend. The case is now being prosecuted by the Multnomah County District Attorney's Office Domestic Violence unit.
According to Hudson's criminal record, he has been convicted of at least 4 felonies in Washington.