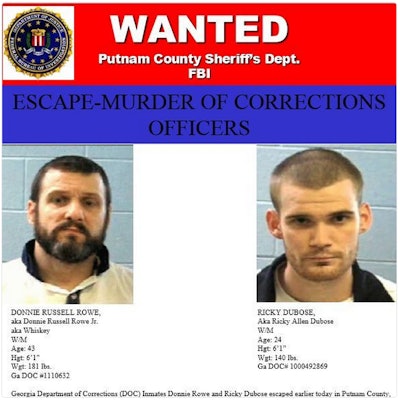 The manhunt intensified and expanded nationwide Thursday for two "vicious" Georgia inmates accused of killing two guards and fleeing a prison bus two days ago, reports USA Today.
The reward for information leading to the capture of Donnie Russell "Whiskey" Rowe, 43, and Ricky Dubose, 24, rose to at least $130,000, Putnam County Sheriff Howard Sills said.
"This is the greatest (search) effort I have ever seen, and it's not just because of the crime. It's because the public is in grave danger," Sills said. "These are dangerous, seriously dangerous, vicious hoodlums that need to be apprehended."
Authorities say the men overpowered the guards, killing them with their own weapons, before fleeing the bus near Eatonton, about 70 miles southeast of Atlanta early Tuesday. They carjacked a passerby's 2004 Honda Civic at gunpoint, and Sills said the duo ransacked a house 25 miles away later that day, taking food and clothes.
Sills said the men then walked several miles before stealing a white Ford pickup at an industrial site sometime before 6 a.m. Wednesday. Since then, nothing.
"We are actively looking for this truck, and these two individuals," Sills said. "They've had time to be half way across the United States."