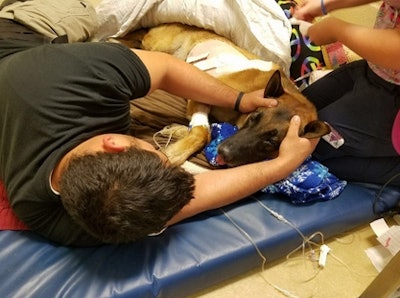 A Sacramento, CA, police K-9 was injured Monday night and a suspect was shot by officers after the suspect rammed his truck into a gate and a parked police car at the Sacramento police substation, police said.
Several officers chased the suspect's truck until it crashed into a yard and the suspect started running away. Police released a K-9 to chase the suspect. Officers then shot at the suspect multiple times as he fought the K-9, reports KCRA.
The K-9, identified as Reno, was taken to a veterinary hospital and is being treated for lacerations. The K-9 is expected to survive.
The suspect, who had been shot multiple times, was apprehended after he broke into a home and beat the resident with a pipe. Both the suspect and resident were determined to have non-life-threatening injuries.