As Florida Highway Patrol Trooper Joseph Perri filled out paperwork on the shoulder of a highway, a speeding sedan slammed into his patrol car, reports the Miami Herald. But what seemed like an accident was actually done on purpose, and the man behind the wheel is facing charges, according to FHP officials.
After ramming into Perri, the Daytona Beach driver got out of the car, approached the trooper, and told him he "struck the patrol car on purpose," said FHP spoksperson Sgt. Kim Montes.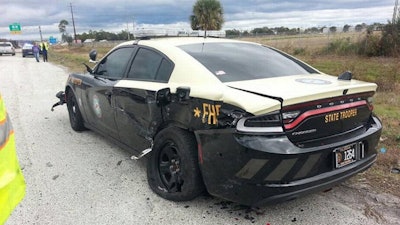 "The allegations that someone would intentionally target a Florida Highway Patrol Trooper as they were working in the name of safety is absolutely horrific," Terry L. Rhodes, executive director of the Florida Department of Highway Safety and Motor Vehicles, said in a statement that was posted on Twitter.
On Monday afternoon, Perri was parked on the eastbound shoulder of I-4 at mile marker 103 near Sanford when 38-year-old Ryan John Hithersay drove his 2005 Hyundai sedan into his car, FHP says.
The Hyundai ended up in a muddy ditch, according to Montez, and the patrol car had side and tire damage.
Perri, 42, was not badly injured but was taken to a nearby hospital. Hithersay faces a charge of aggravated battery on a law enforcement officer, Seminole County jail records show.