Law enforcement lost one of its most famous members on Jan. 6, when Dave Toschi — a longtime detective with the San Francisco Police Department — passed away after a lengthy illness, reports Yahoo Entertainment.
Toschi was a brash, larger-than-life personality, even by the standards of his city, and he received his most famous assignment in 1969 when, alongside partner Bill Armstrong, he was tasked with handling the Zodiac serial-killer case. That, in turn, led to national prominence and attracted the attention of Hollywood, which soon used him as the template for two of its most memorable police-force protagonists — and, eventually, immortalized him in David Fincher's 2007 film Zodiac.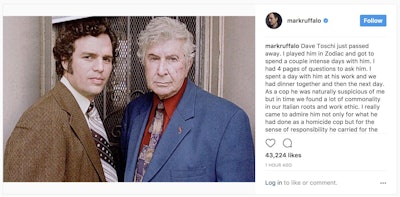 In Zodiac, Toschi is played by Mark Ruffalo. In addition, Tinseltown twice used Toschi as inspiration for a go-for-broke police officer: Steve McQueen's Bullitt (1968) and Clint Eastwood's Dirty Harry (1971).
The real Toschi later admitted to the San Francisco Chronicle that although he enjoyed Fincher's film, it wasn't easy for him to sit through it: "I thought Ruffalo did a good job. I enjoy it, but it depresses me. After I watch it I get angry at myself because I couldn't close the case." That inability to nab the Zodiac killer haunted him for the rest of his life — resulting in ulcers, and compelling him to return to the scene of the crimes every year on their Oct. 11 anniversary.