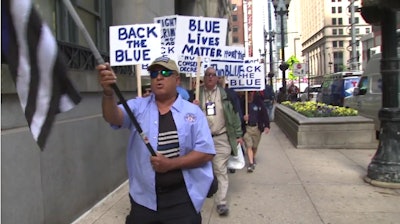 Video: Chicago FOP Protests Suspension of Officer Over Justified Shooting
Off-duty members of the Fraternal Order of Police in Chicago protested Mayor Rahm Emanuel inside and outside City Hall late Wednesday morning for "turning his back on police."
Chanting "Rahm must go" and "We are CPD," dozens of off-duty Chicago police officers marched around city hall with flags and signs saying "Back the Blue" and "Blue Lives Matter," ABC7 reports.
Protesters are upset over the status of Officer Robert Rialmo, who was suspended and faces unpaid status over the shooting of Quintonio Legrier and Bettie Jones. Rialmo's case is now before the Police Board.
His pay was suspended and the Civilian Office of Police Accountability wants him fired against the wishes of Superintendent Eddie Johnson, WGN reports. Johnson has said the shooting was justified.
"This ruling has essentially undermined the use of force taught and employed by police officers. Because of this ruling, no officer knows when he or she can use force, placing them and the public in danger," said FOP Vice President Martin Prieb.
"Is this the kangaroo court that decides police misconduct allegations? Sadly, it is," Prieb said. "COPA is a political witch hunt on police officers. The investigations are unfair and politically motivated."