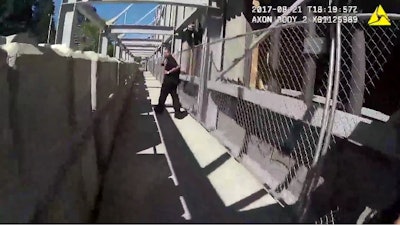 VIDEO: Seattle Officer Faces Discipline for Taking Down Ice Ax-Wielding Man
Officer Nick Guzley of the Seattle Police Department now faces discipline for how he subdued a man armed with an ice ax. A complaint was filed about his failure to de-escalate the situation. However, other officers have said he made the best of a bad situation, and no one ended up getting hurt.
The Seattle police footage came from body cameras now being worn by officers, and begins inside the REI on Yale Ave. N. Security workers for the store called police to report that a man had just stolen an ice ax, then threatened one worker with it when she tried to stop him from leaving.
Police tracked the man outside the store.
In the video, the man clearly refuses to stop. He also won't follow commands, even though officers repeatedly order him to "drop the ice ax."
Kevin Stuckey, the president of the Seattle Police Officers Guild, said the officers on scene had limited choices.
"At some point, if we don't act, someone's going to get hurt," Stuckey told KOMO TV.
The suspect made his way into a narrow corridor. It was there that police tried to press in, warning the man he would be "Tased" if he kept ignoring their orders.
In response, the man can be seen on the video turning to face the officers while holding the ice ax over his head.
Moments later, once the man turned back around, Officer Guzley rushed up from behind and made the tackle.
The case remains open, but the recommendation is for Guzley to receive a two-day suspension without pay.