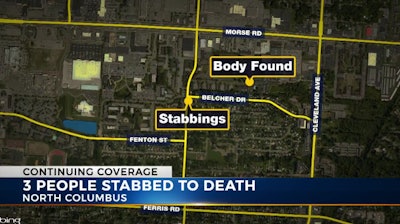 VIDEO: 3 Killed, 1 Critically Injured in Ohio Stabbing; Suspect Fatally Shot
Three people were killed and one critically injured after a stabbing in north Columbus, OH. The suspect was fatally shot by responding police officers.
It happened just after 9:00am Monday in the 4300 block of Walford Street.
Police told NBC4 officers were called to a home at that location on a report of a stabbing. The officers entered the residence and found three people stabbed inside. Two of the female victims were pronounced dead at a local hospital. A third stabbing victim was listed in stable condition at Ohio State University Wexner Medical Center.
Witnesses say the officers confronted a man with a knife outside of the residence. Police told NBC4 the officers on scene were ultimately forced to shoot him. The male suspect was pronounced dead at a local hospital.
No officers were injured.
As part of the investigation on Walford, officers went to an address on Fitzroy nearby where they discovered another body. Officers say the male victim had died from apparent stab wounds.