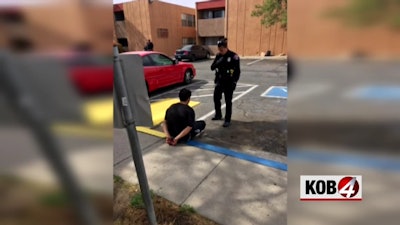 VIDEO: New Mexico Officer Apprehends Murder Suspect on Her First Day
Rookie Albuquerque Police Department Officer Stephanie Cockerill's first day on patrol started with a noise complaint but led her to a wanted murder suspect, reports KOB4.
"I run it through the system and it came back in our national crime information center as a hit," she said.
Not even 24 hours on the job and Cockerill made her first arrest: 20-year-old Francisco Lopez.
"He had two felony warrants for a homicide and one was for failure to appear on that homicide," she said.
Lopez was wanted in connection with a drive-by shooting from 2015 that left 14-year-old Isaiah Albright dead. Lopez was formally charged last month. A spokesman for the District Attorney's Office said they believe Lopez was driving the vehicle.
"To go through rigorous training in the academy for six months to make sure violent criminals are off the street, and I felt like I was doing exactly what I was trained to do," Cockerill said.