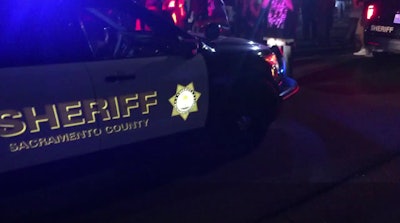 VIDEO: Protester Hit by Sheriff's Vehicle at Stephon Clark Vigil
A protester at a vigil Saturday night for Stephon Clark was hit by a Sacramento County Sheriff's Department vehicle.
The collision occurred as protesters marched in south Sacramento.
The activist struck was Wanda Cleveland, a regular at Sacramento City Council meetings. She lay immobile on her side in the street until a fire department crew arrived to pick her up.
Cleveland was released from Kaiser Permanente South Sacramento Medical Center after midnight, with bruises on her arm and the back of her head.
"He never even stopped. It was a hit and run. If I did that I'd be charged," Cleveland said to the Sacramento Bee at the hospital. "It's disregard for human life."
In a press release early Sunday morning, sheriff's spokesman Sgt. Shaun Hampton confirmed the accident had occurred. The release said two sheriff's department vehicles were surrounded at about 8:40 p.m. by protesters who were yelling and kicking the vehicles.
"Vandals in the crowd" caused "scratches, dents, and a shattered rear window" to a sheriff's vehicle, the release said. The release did not address why the vehicle that struck Cleveland did not stop, and Hampton did not immediately respond to a request for further details.
Cleveland was arrested in October 2015 when she and another woman became combative during a city council meeting, KCRA TV reports.
At the time, she was part of a group asking the city to increase the minimum wage.