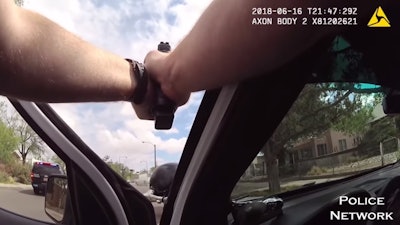 VIDEO: New Mexico Officer Fatally Shoots Robbery Suspect
Albuquerque police fatally shot a man suspected of armed robbery following a vehicle pursuit. The pursuit began when police were called about a robbery at a Verizon store in northeast Albuquerque.
A spike strip deployed by APD failed to stop the van, and officers then attempted two PIT maneuvers, according to KOB-TV.
Body-camera footage shows an officer firing five rounds at the suspect, 47-year-old Richard Rivera — who had a long criminal history dating back to 1995. A second suspect — 39-year-old Jennifer Rael — was taken into custody.