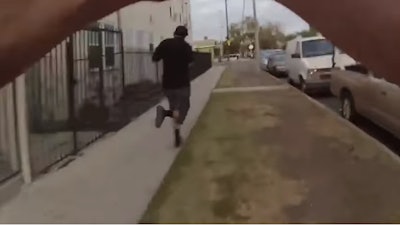 VIDEO: LAPD Officer Fires on Fleeing Armed Suspect
The Los Angeles Police Department has released body camera footage of an officer-involved shooting on May 12, according to KTLA-TV.
Officer Joshua Parker and his partner attempted to make contact with individuals believed to be involved with gang activity.
One subject took off running, with a gun in hand. The officers chased the subject in foot pursuit, and during that time Parker fired on the fleeing man, missing him, but taking him into custody.