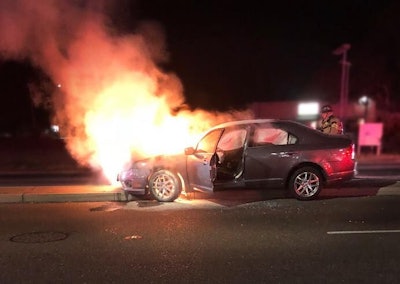 Officers with the Citrus Heights (CA) Police Department reportedly pulled an unconscious man from a burning car early Thursday morning, according to a post on the department's Facebook page.
Officers arrived at a solo vehicle collision to find the car engulfed in flames as the driver lay unconscious in the driver's seat.
Officers pulled the man to safety and he was treated for non-life-threatening injuries. One of the officers sustained minor injuries while removing the unconscious driver from the burning vehicle.
Police Chief Ronald Lawrence said in the Facebook post, "Police Officers all over the world risk their lives every day for the communities they serve. Every call an officer responds to has the potential to become life threatening. This is a risk all officers are subjected to, to protect the innocent."