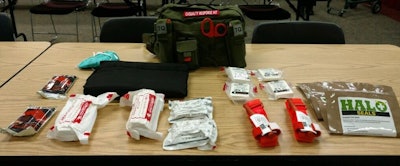 The Wheeling (WV) Police Department has received an anonymous donation from a local company that will enable the agency to purchase video recording equipment, mobile cameras, digital cameras, and laptop computers.
Wheeling Police Chief Shawn Schwertfeger told WTOV-TV. "These types of donations allow us to go ahead and move forward with those. It saves ultimately the city and the residents. It's a community partnership that helps the entire city of Wheeling."
The department said on its Facebook page, "The anonymous donor also provided funding for active shooter crisis response kits that will be stationed in all four Ohio County Middle Schools and West Virginia Northern Community College."
"I am amazed of the thoughtfulness with this anonymous donor. They are truly dedicated to helping serve our community, especially the Wheeling Police Department. Everything purchased is a much-needed addition to fighting and preventing crime in every corner of the city. I cannot thank them enough for this generous donation," Chief Schwertfeger said in the Facebook post.
The $40,000 donation is the second donation from the company, which has given a total of $77,500 this year.