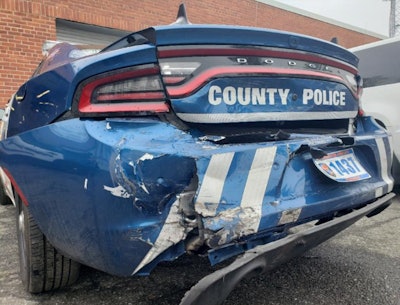 A suspected DUI driver rear-ended a Westchester County Police Department patrol vehicle early Sunday morning, injuring the officer inside.
According to the Westchester Journal News, a 24-year-old woman—who has not yet been named—was driving a Chevy Impala when she slammed into the back of the patrol car on a local freeway.
The officer was transported to a nearby hospital where he was treated for back and neck injuries.
The woman was arrested and charged with misdemeanor counts of driving while intoxicated and third-degree aggravated unlicensed operation of a motor vehicle.
The agency said on Facebook, "We regularly highlight the dangers of driving under the influence of drugs or alcohol. And we regularly highlight the need to slow down and move over for stopped emergency vehicles. This incident shows the need for both of these messages to be repeated again and again. Some people just don't seem to get it."