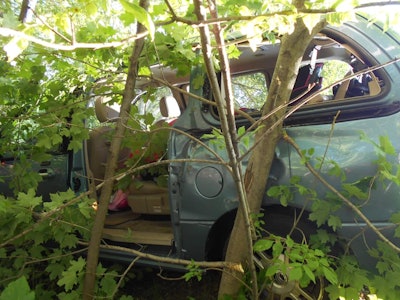 An officer with the Duluth (MN) Police Department is being lauded for his quick actions to rescue a toddler from a minivan that had crashed into a copse of trees late last week.
The agency posted images of the scene and a brief explanation of the incident on Facebook, explaining that the parked vehicle somehow began to roll as a woman was taking her two children from the back seat. The vehicle ended up partially suspended in the trees with one of the children still inside.
Officer Todd Simmons was on his way to work when he came upon the crashed vehicle. He called for assistance and then safely removed the child from the car.
Duluth Police Chief Mike Tusken said in the social media post, "A scary and potentially tragic incident fortunately ends with property damage and minor injury. Thank you Officer Simmons for your timing, quick actions and service to help a very scared mom, child and crash victim."