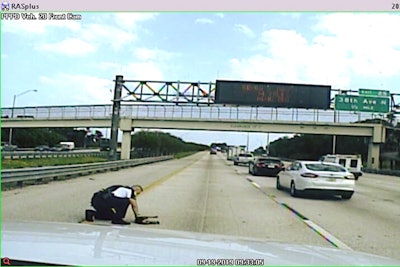 An officer with the Pinellas Park (FL) Police Department who witnessed a small dog being struck by a vehicle on an interstate freeway swooped to the animal's aid, wrapping it in a blanket and delivering it to a nearby veterinary hospital.
The agency posted images of Officer Joseph Pugila and the dog on its Facebook page with the caption, "Ofc. Puglia swerved over to block the dog from traffic. The dog was scooped up by Ofc. Puglia and rushed to the Pinellas Animal Hospital showing signs of life. The team at the Pinellas Animal Hospital was notified of the incident by our communications department and they were awaiting Ofc. Puglia's arrival. After some medical examinations, the dog is expected to make a full recovery."
The owner has not yet been located due to the dog not having a microchip or tag.
The social media post concluded, "This incident is just another example of the dedication and compassion our officers have for our four legged friends."