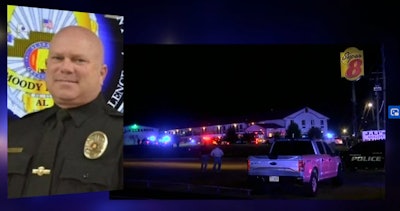 A Moody, AL, police sergeant was shot and killed in the line of duty Tuesday evening.
Sergeant Stephen Williams, 50, was shot multiple times with what one witness described as an AK-47 while responding to an incident at a local Super 8 motel.
No other officers were injured in the incident, WBRC reports
Police say two suspects - a male and female - are in custody. The scene is clear.
Alabama Attorney General Steven Marshall said he was devastated to receive the phone call about Williams' death. "I have been slow to make a public statement today because, after a record-breaking year of law enforcement deaths in our state, words just seem so inadequate,'' Marshall said.
"Sergeant Williams was responding to a call for help at local hotel. He showed up, ready to assist, and was instantly shot dead. At this point, we have no reason to believe that Sergeant Williams's shooting is related to the unrest we're witnessing across the nation. Nevertheless, our state has been plagued in recent months by a lack of respect for law enforcement—most of whom are genuinely good men and women, from all backgrounds, doing an incredibly difficult job."