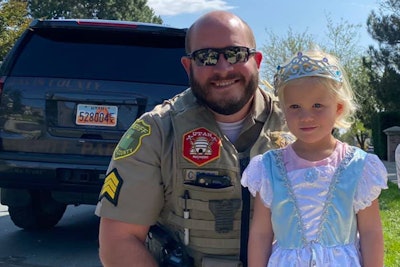 A deputy sheriff in Utah is being lauded for going well above and beyond the call of duty after reviving a four-year-old girl who had fallen from her scooter, struck her head, and gone unconscious.
Ryan Meacham posted on Facebook, "Yesterday was almost the worst day of our lives."
The deputy who was among the responders to arrive at the scene helped revive the little girl.
After the girl was transported to a nearby hospital, the deputy—whose name has not been released—spoke with the family, learning that she was especially fond of Cinderella.
He left, went to a local store, and purchased a Cinderella dress and crown for her.
The social media post concluded, "This officer went way above his job description. I wish I knew his name or how to personally thank him for coming to the aid of my daughter, and then following up with such an unexpected act of love."