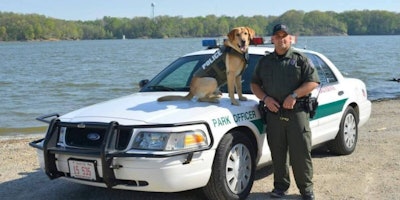 An Ohio Department of Natural Resources officer died Tuesday of a medical event he experienced during the search for two teen who had fallen through lake ice. A 16-year-old girl drowned and a 13-year-old boy survived.
Officer Jason Lagore, a K-9 handler, suffered a medical emergency and was pronounced dead shortly after at a local hospital, Fox 19 reports.
"Our hearts are with the family and loved ones of Officer Jason Lagore, who died in the line of duty last night," ODNR Director Mary Mertz said in a statement.
"Today we lost one of our favorite K9 handlers. Officer Jason Lagore was a mentor to many and an excellent Ohio Parks and Recreation officer," Four Paws Animal Hospital wrote on Facebook.
Officer Lagore responded to a call that two people has fallen through the ice into the lake at Rocky Fork State Park in Highland County just before 6:30 p.m. Tuesday.