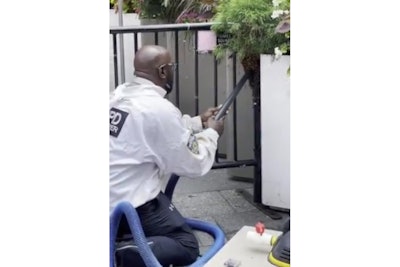 Thousands of bees were removed from New York City's Times Square this week.
Approximately 25,000 bees were relocated by the New York Police Department, which sent its beekeeper into the tourist hot spot, the Washington Examiner reports.
"Nothing to BEE concerned about! Officer Mays from @nypdbees swiftly responded to a swarm of bees in Times Square today, and gently removed approximately 25,000 bees from the location before transporting them to a safe location," the NYPD said in a tweet on Tuesday.
The bees were "safely transported to the Hudson Valley where they will live out the rest of their lives," said the official Twitter account of the NYPD beekeepers.
Nothing to BEE concerned about! Officer Mays from @nypdbees swiftly responded to a swarm of bees in Times Square today, and gently removed approximately 25,000 bees from the location before transporting them to a safe location. pic.twitter.com/sbJcrmRpDy

— NYPD NEWS (@NYPDnews) July 6, 2021