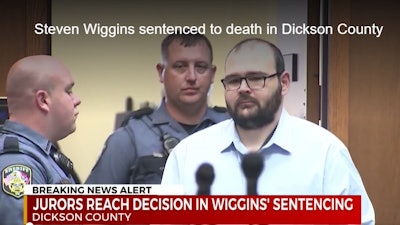 The man convicted of murdering a Dickson County (TN) Sheriff's sergeant has been sentenced to death.
A jury made the decision Thursday afternoon, which ended the fifth day of a sentencing hearing for Steven Wiggins in the murder of Sergeant Daniel Baker, WKRN reports.
Wiggins shot and killed Baker on May 30, 2018, when the deputy was sent to investigate a suspicious vehicle. He then put Baker in the back of his patrol vehicle and attempted to burn his body.
During the trial, Sergeant Baker's widow Lisa told the jury her daughter Meredith, age 5, has increasing questions about her dad, the Tennessean reports.
"All I can explain so far is that daddy was working, went to help someone, got hurt, and was unable to make it to the doctor," said Baker. "(Meredith) believes her daddy is a hero.
"She knows he lives in heaven but doesn't quite understand he is never coming back," Baker added. "That he will never be here to hold her, kiss her, to watch her grow, to offer fatherly advice, to walk her down the aisle, to meet his grandchildren, to do any of the things a father could and or should be here to do."