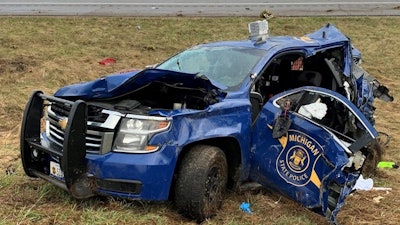 A Michigan State Police trooper was hospitalized after a semi-truck slammed into the back of his patrol car stopped along I-94 Friday morning.
Investigators say the patrol car was parked on the eastbound lanes of the freeway near Lawrence in Van Buren County while troopers investigated an earlier crash. The semi-truck slammed into the back of the patrol car, ABC12 reports.
Firefighters had to cut the trooper out of the wreckage using hydraulic rescue tools. The trooper was rushed to an area hospital, where he received treatment for non-life-threatening injuries.