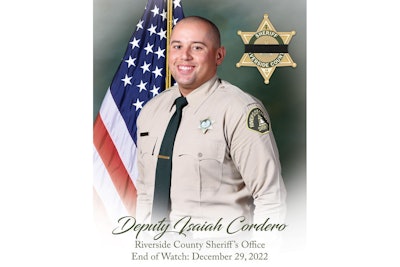 A California sheriff's deputy was shot and killed Thursday afternoon around 2 p.m. during a traffic stop. The deputy's murder led to a massive manhunt for the suspect and resulted in him being fatally shot by law enforcement.
Riverside County Sheriff Chad Bianco confirmed Deputy Isaiah Cordero was fatally shot during a traffic stop in Jurupa Valley. He said the department is "deeply heartbroken" over the loss.
Bianco said Cordero was assigned to the motorcycle unit, Fox News reports.
The suspect has been identified by law enforcement as 54-year-old William Shae McKay.
Bianco said McKay had an extensive criminal history in California dating back over 22 years.
Bianco said a massive manhunt for McKay came to an end fairly quickly when he was located driving in San Bernardino County. After a pursuit, the suspect began shooting at deputies who returned fire and killed him, Bianco said.
Prior to shooting Cordero, McKay was most recently pursued by California authorities in March 2021 in connection with a felony kidnapping warrant. McKay was arrested after stabbing California Highway Patrol K-9 Sam, who took him down after his car was disabled by a spike strip, and he tried to flee on foot. The K-9 survived the attack.
Bianco said McKay was convicted of his third strike in November 2021 in connection with the above incident and should have been sentenced to 25 years to life in prison. Before sentencing, the judge lowered McKay's bail, which resulted in him being released.
"We would not be here today if the judge had done her job," Bianco said.