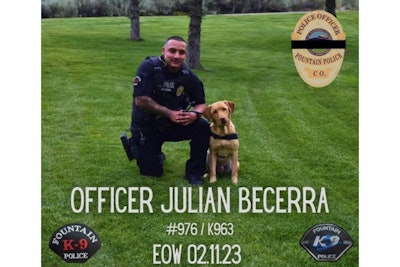 The following is an excerpt from an editorial appearing in the Denver Gazette.
It turns out the threesome arrested after a high-speed car chase that led to the tragic death of Fountain (CO) police Officer Julian Becerra had extensive criminal records and were wanted on other charges at the time of the Feb. 2 incident.
Sadly, it comes as no surprise. Not amid Colorado's unprecedented crime wave — aided and abetted by a legislature that has spent the last several years watering down criminal penalties, decriminalizing drugs and coddling repeat offenders.
As The Denver Gazette reported this week, arrest affidavits reveal the suspects — who were eluding police in a vehicle believed stolen — had a history of car theft, robbery, illegal drug possession and other crimes. There were outstanding arrest warrants for two of the suspects.
The alleged wheel man in the chase already was facing warrants for charges including motor vehicle theft and felony criminal mischief. He also had logged a lengthy prison record before that for drug and robbery charges.
Read complete editorial at DenverGazette.com