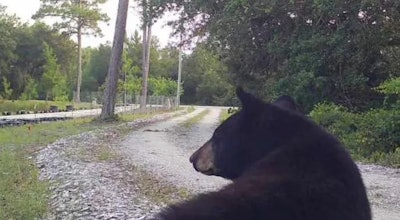 Franklin County (FL) Sheriff A.J. "Tony" Smith went live on Facebook Thursday calling on the Florida Fish and Wildlife Conservation Commission (FWC) to come up with a new solution for the growing number of calls his office gets about bears in residential areas.
Some of the bear reports Smith has gotten include a group of young bear cubs, which apparently had lost their mother, were running amuck in Carrabelle, Florida, he told USA Today. Bears have also broken into people's garages and porches, he said. One bear even got into a woman's house in the middle of the night, causing the resident to barricade herself in her room while she called police, Smith said.
"Bear management is not my day job," Smith said in the video. "Something needs to be done. I'm not a bear biologist, but I know that there comes a time when people need to move out of the office, get out in the field, and see what's going on and that's what I'm challenging these bear biologists."
His office has received more than 40 calls about bears in the last year, said Smith, who has served as the county's sheriff since 2017. Bears have increasingly become an issue over the last five years, he told USA Today.
A day after Sheriff Smith made his bear video, the sheriff's officer reported on Facebook: "The Executive Director of the FWC called the Sheriff late this afternoon and will be scheduling a meeting with the sheriff's office staff next week. The promising thing about the call was he promised to have new solutions to this old problem."