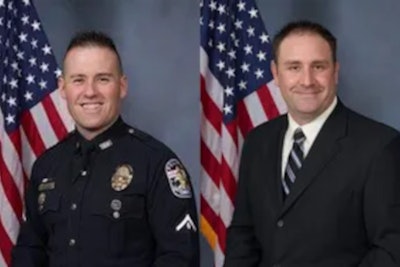 The Louisville Metro Police Department is seeking to fire two more officers involved in the Breonna Taylor raid— one reportedly sought the "no-knock" search warrant for her apartment and a second reportedly fired the fatal bullet.
Detective Joshua Jaynes received a pretermination letter Tuesday from interim Chief Yvette Gentry after a Professional Standards Unit investigation found he had violated department procedures for preparation for a search warrant execution and truthfulness, his attorney, Thomas Clay, said.
Detective Myles Cosgrove, who the FBI concluded fired the shot that killed Taylor, also received a pretermination letter, his attorney, Jarrod Beck, confirmed Tuesday evening.
Officials say 32 rounds were fired by officers during the incident; 16 were fired by Cosgrove. A single round was reportedly fired by Taylor's boyfriend, Kenneth Walker, striking Sgt. Jonathan Mattingly in the thigh. Officials say Walker opened fire on the officers first, and they returned fire.
In Jaynes' pretermination letter, Gentry said he committed "extreme violations of our policies, which endangered others," the Courier-Journal reports.
In the letter, Gentry wrote that Jaynes lied twice when he swore out the warrant to Jefferson Circuit Judge Mary Shaw on March 12.
Jaynes, an officer since 2006, has a closed hearing with Gentry and her staff Thursday morning. He was not at Taylor's apartment during the shooting.
In a statement released late Tuesday night, the Louisville Fraternal Order of Police said it is "aware that two of our members received pre-termination opportunity to respond notices today, outlining the chief's current intent to terminate their employment," acknowledging the hearings to come and adding that the FOP "will continue to coordinate with our members and their attorneys throughout this process."
The department fired Detective Brett Hankison in June for "blindly" shooting 10 rounds into Taylor's apartment. He now faces three counts of first-degree wanton endangerment after several rounds went into an occupied apartment next to Taylor's unit.