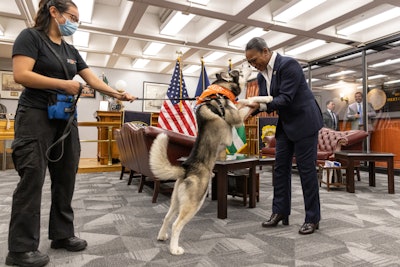 In honor of "Take Your Dog to Work Day" today, June 24, a neglected dog named Connor—who was rescued through an ongoing partnership between the ASPCA (American Society for the Prevention of Cruelty to Animals) and the NYPD—spent time with NYPD Commissioner Keechant Sewell at One Police Plaza.
Connor was rescued by an NYPD officer in Manhattan on April 1, after he was found in a home underweight, without access to food or water, and living among his waste. The two-year-old husky was relocated to the ASPCA's Animal Recovery Center on the Upper East Side and is now thriving after receiving medical and behavioral care, including treatment for a parasitic infection.

Since January 2014, the ASPCA has been working closely with the NYPD to prevent and combat animal cruelty across New York City. Through the partnership, the NYPD takes the lead role in responding to all animal cruelty complaints, while the ASPCA directly cares for animal cruelty victims by providing critical support including forensic evaluations, medical treatment, behavior assessments, housing and placement, as well as legal support and training. Since the partnership's inception, more than 4,000 animals have been rescued from situations of cruelty and neglect, and more than 23,000 NYPD officers have been trained by ASPCA subject matter experts to effectively recognize and respond to suspected animal cruelty.

"Connor's inspirational recovery story is the epitome of our great city — and how New York's Finest are here to help every person and pet they proudly serve," said Police Commissioner Keechant Sewell. "I can't think of a better partner to have on 'Take Your Dog to Work Day' or to highlight the successful relationship between the NYPD and ASPCA."

Last year, the ASPCA announced the development of its Recovery & Rehabilitation Center in Pawling, N.Y. to expand their capacity to care for animals rescued through the partnership. The facility is slated to open in 2024 and will work in conjunction with the ASPCA's Animal Recovery Center and Canine Annex for Recovery & Enrichment in Manhattan, where they currently provide care for NYC's animal victims of cruelty and neglect.