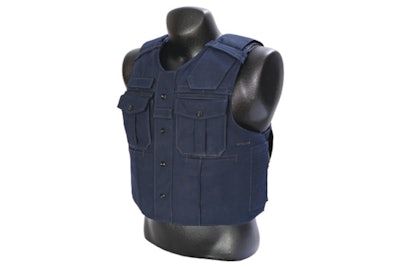 Specialized law enforcement units often wear different makes and styles of uniforms and gear than their agencies' other officers. This can sometimes lead to officers from the same agency who are wearing the same types of uniforms, but they look less than… well… uniform.
"Different law enforcement teams have different jobs and need different gear, but they should look like they are from the same agency," says Michael Foreman, executive vice president for marketing, federal, and international business for Point Blank Enterprises.
Point Blank has been working for some time developing apparel and gear that maximizes uniform consistency for officers with different missions at the same agency, Foreman says. The first product in this line is the company's new crossover external armor carrier vest, the Guardian.
The Guardian name has been used for the company's uniform-style external vest carrier for some time. But Michael Haynes, Point Blank's director of brand management, says the new Guardian is very different from the company's legacy product.
Customization is the big difference between the new Guardian crossover vest and the previous product with the same name. Haynes estimates that the number of options available on the Guardian can create 1,000 different vests.
Customization of the same basic garment is how Point Blank believes officers who serve in different units with the same agency can maintain a consistent appearance. The options offered on the Guardian include multiple badge flap styles, ID placard styles, pocket flap designs, and pocket closure methods. In addition, the buyer can choose between three different levels of soft armor protection and between a slick (uniform shirt style) or load-bearing/tactical front with MOLLE or laser cuts for attaching gear pouches.
"We went back and looked at all of the options that people requested on the original Guardian and we distilled them down to the most popular requests. We used those to reposition the Guardian line and build the new configuration offerings," Haynes says.
According to Haynes, the customization process is easy to use. "The users can do it themselves or an agency buyer can sit down with a dealer or a distributor and do it in the store or in their offices," he says, adding that there is no minimum order.
Haynes explains that Point Blank's ability to fulfill single orders from individual officers is enabled by the modular design of the Guardian crossover vest. "When production gets the order, they can literally pull the pieces the individual wants and put it together," he says. The result is that Point Blank can deliver the customized product to customers in 30 days or less, according to Haynes.
Each Guardian vest no matter how it is customized to meet the buyer's demand starts off with a basic structure and standard features. These include 500-denier Cordura outer shell construction, a front-opening zipper, a variety of visible, and hidden pockets, and a front plate pocket for adding rifle protection.
The standard features are part of maintaining uniform appearance even with custom options. "It's more important than ever that we have that uniform look," says Foreman, who served 41 years in law enforcement. "A uniform look and command presence bring significant value to how we police. Having a uniform look that is both acceptable to the public and is user-friendly for the officers is what we are trying to achieve with the Guardian.
The Point Blank Guardian crossover vest with custom options is now available.