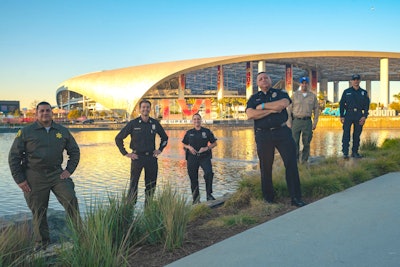 As sports fans move on to new seasons and new teams, Super Bowl LVI will remain as a milestone in the timeline of the Inglewood Police Department. The small department of slightly more than 170 sworn officers was the hub of not just coordinating all public safety and security entities at and around the new SoFi Stadium but also across the broader area as well.
For the most part, the burden of all that responsibility fell on a young man who has only been an officer for four years. He took on the challenge, succeeded, and is praised by his peers. He was responsible for taking the lead in planning and coordinating across the entire Los Angeles area.
"We had resources deployed to multiple locations. So, it wasn't just the stadium that we were concerned about. We had hotels that the teams were staying at, we had obviously the LA Convention Center where the NFL Experience was taking place, and then you throw in the curveball of having to coordinate federal resources and understanding that what the NFL was asking for was atypical, like having canine sweeps and canine officers staffed at all these different venues in large numbers," says Officer Jay Park, who is part of the three-person Special Events unit under the Homeland Security Division at Inglewood PD. "I feel comfortable in saying that planning for Super Bowl took over a year."
Park talks of the extensive planning and collaboration of agencies for the Super Bowl, but said it takes time. He points to the NFC championship game coming to SoFi and how with a just a one-week notice Inglewood PD and the other agencies were able to work it out. But, the big game at the culmination of the season was a totally different challenge.
"If we only had a week for Super Bowl, I don't know if we would have had the game," Park says.
Inglewood PD Lt. Scott Collins, who is the department's public information officer, explains how the officers were able to practice along the way and build up to what they needed to learn to host the Super Bowl successfully.
"Working games previously, even with COVID, we had to work games before we could have fans. So, that let us to kind of get our feet wet with not everybody there yet, and then next we had the fans when we were working regular season games, and then we had the planning for the Super Bowl," says Collins.
He and Park both point to preparing and managing for the traffic flow in and out of SoFi Stadium as one of the major challenges. The regular season games let IPD learn how to manage that, according to Collins.
The 172-officer department was well supported in security efforts for the Super Bowl not just from other surrounding local departments but also by various federal agencies.
"It was immense. So, for us having not done this before, we understood the Super Bowl is a Tier 1 event and we were going to have a lot of federal assets available to us," says Park, who explains IPD's primary point of contact was through the secret service, saying that individual did an excellent job.
"Early on we understood one of the big assets we needed multiple federal agencies to help us with was canine resources," Park adds.
What was surprising was reaching out to all those entities such as the Transportation Security Administration, Coast Guard, and different entities and along the way being contacted by other sectors like Customs and Border Protection and realizing they had other things they could lend as well.
"It was a real learning process trying to understand how we could filter out those who could play a crucial part for us and then those who obviously wanted to partake in Super Bowl but didn't have a defined role we could slot them into," Park says. "That took us a lot of time to fully flesh out, but I feel comfortable in saying whether it was agents from the FBI or operators from Customs and Border Protection that we had a lot of people out there and without them it would not have worked."
Even for Collins, who has worked 41 years with the city and 37 years as an officer with Inglewood PD, planning for and hosting the Super Bowl was an eye-opening experience.
"For me, I've watched the Super Bowl on TV before not realizing and understanding all the things that go into planning for it," Collins says. "So, some of the things with the federal agencies involved and the resources, I would have never even known that those things were taking place watching the Super Bowl. You don't know until you do all this planning and see how it works" Collins said.
He pointed out many agencies asked, "What do you need from us?" and then would provide information on services and planning they have provided at prior Super Bowls and IPD could go from there.
"For me, I had no idea. I didn't really know what we needed to know to do this," Collins said.
But the National Football League has a plan in place to let departments learn in advance what will be needed to coordinate safety and security when hosting the big game.
"One of the programs that the NFL has set in place is what they call VPSO, visiting public safety officials," Park says. "For us, we hosted VPSOs from Phoenix and Las Vegas because they will be hosting the next two Super Bowls."
Park was a VPSO at the 2021 Super Bowl in Tampa, although it was an odd experience going into it. He saw himself as "just an officer" and having to spend a week on a work-sanctioned trip with his chief.
Collins disputes Park's take on calling himself "just an officer."
"He is not just an officer he is 'the officer,' the officer we needed to do this. We would not have been successful without him," Collins says. "He is not just looking out for positions for Inglewood, he controls positions for everybody. He is like the quarterback. He has to know everybody's plays and where they are at and has to know them for each agency. He's like Tom Brady, he's our Tom Brady."
Park saw the Super Bowl as just a football game before that Tampa learning experience. But on that trip, he learned the responsibilities he was taking on for Inglewood's big event would sprawl across a larger area.
"Seeing all of the planning and how much of a footprint it took up in the whole Tampa region for an entire week, I realized 'Oh wow we are going to face some challenges'," Park said.
He returned home thinking of his city's congested urban environment and understanding thousands of people would be trying to get into Inglewood plus all the other events around the LA area.
"That's why we ended up having so many of these committees for specific segments of the Super Bowl, whether it was traffic, PIO, canine, tactical, etc. We had to break this up to make it work," Park explains.
Even with all the additional resources, heavy workloads and commitments were needed from the officers of Inglewood PD. Park said for two weeks it was all hands on deck and everyone in the department was fully understanding of that.
"Gameday we essentially used every member of our department that wasn't on duty with their regular duties," Park said. "On the 13th we had every single person working."
Collins also points out the family sacrifices by Inglewood officers during the two-week period as they worked long and hard to keep the fans and community safe.
During the game, Collins directed the Joint Information Center that was housed in the city's senior citizen center. He was in there with representatives from LAPD, LASD, Federal Bureau of Investigation, National Weather Service, Border Patrol, Emergency alerting systems from LA County, LA City, and others.
"We were making sure we were unified in everything that we put out," Collins says.
On gameday, Park was in three locations and started the day at the public safety compound, an off-site location where they aggregated all the resources going to the stadium. He checked people in and then they were shuttled by buses to the stadium. Then, he too moved to the stadium.
"I had to walk around and make sure that everyone was placed at correct positions. One of the things that was different about the Super Bowl was positions changed due to different perimeter fencing and different entry points," Park said.
For most of the game, he was in the event command center where they coordinated all the police responses and calls for service in and around the property. He remained there, until the final minute of the game when he got a call that more officers were needed on the field. He stayed busy and had no concept of how the game was going on the field.
"Unfortunately, I can tell you for myself, I have no idea what is going on during a game. We have so many calls for service I don't know when the game is starting, I don't know when halftime is," Park says.
He looked up and thought "wow," when he saw two minutes remaining and it was time to prep for egress.
"I was running around grabbing officers to go down onto the field to make sure we had a secure postgame event," Park said.
Both Inglewood officers were proud of the Rams' bringing a championship to Inglewood, a town long dubbed the City of Champions.
"I can tell you for a fact that our officers definitely have a sense of pride that we had this level of success with our local team. It was an exciting time for the city, for the department, for the officers," Park says. "I know for a fact that we definitely have a sense of pride both with the Rams and the Chargers. We have a lot of good things coming in, not to mention the Clippers coming in a couple of years as well. It is an exciting time to be in Inglewood," Park said.
Collin's perspective on championships spans decades.
"We can start back in the 80s when I was a patrol officer working. I used to work the Lakers games and the Kings games. That's how we became known as the City of Champions - with the Hollywood Park Racetrack, Kings and Lakers winning championships and all that. So, the Rams just joined the City of Champions by winning their championship," says Collins, who points out how sporting events and venues have changed over the decades.
"Obviously, it is a bigger arena and bigger event, more concerns, more things going into it," Collins says.
Seating capacity at SoFi Stadium is more than 70,000, but back in the day a sell-out audience at the Forum was only 17,505.
"One of the main things we dealt with was the traffic getting in and out and then people getting lost when they came out, being they would get turned around when they went inside the event," Collins says.
The much younger Park also sees how the city is now hosting larger numbers of guests.
"I think one of the challenges that is still really fresh to us is the volume of people coming in on any given event day. We have never had such an influx of folks," Park says.
People come to the event venues from across the region, around the state, and sometimes from outside the state. Managing that influx and meeting the expectations of Inglewood citizens and businesses is important to Inglewood PD as the crowds arrive. The stadium is located right in the middle of the community.
"It has been a learning process for us," Park said
Collins points to another big difference compared to how events were handled when he was a young officer.
"Before we didn't have other agencies involved when it was just the Forum or a racetrack event. It was all Inglewood. Now we are bringing in other agencies in," Collins says.
But, for him, there is an overall pride in how his hometown has handled the growth and in particular hosting the Super Bowl.
"I am born and raised in Inglewood. I was there before the Forum was built. To go from there to see us put this event on, and Inglewood PD is small, we did it well." Collins says.