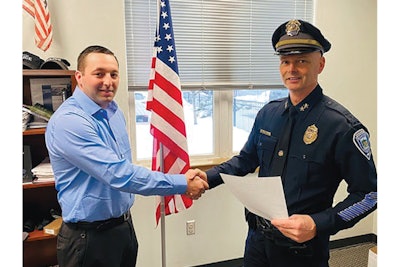 Back when Chief Craig Andersen of the Sanford (ME) Police Department served as commander of the Southern Maine Emergency Response Team, he read Jocko Willink's "Extreme Ownership: How U.S. Navy SEALs Lead and Win."
Last summer, after Andersen was named chief of the Sanford PD, he brought Willink's leadership ideas to the entire agency of 35 sworn officers. "What we have found by doing this is that our officers are far more engaged," he says. "We've created leaders at every level of the organization, from our junior people to our senior people."
Empowering all personnel was one of the principles of decentralized command that Andersen implemented at Sanford PD. "They're empowered to do their mission. They're the ones out there doing the job and we're supporting them," he says.
Sanford PD's new mental health unit is one example. "One officer was selected right away, and we empowered that officer to tell us what was the best way to move forward. The unit is now adding personnel—a social worker and another officer—we're behind them putting the gas in the tank and getting them along the way," Andersen says.
The same management style helped Sanford PD establish an officer-driven recruiting effort. The agency needs seven officers, more if some decide to file their paperwork. "In our leadership meetings, we talked with the team about it and they developed a committee." The recruiting team now consists of officers who are volunteering their time to help fill the ranks, including former school resource officers and a former military recruiter. "We've empowered this group to tell us the best way to recruit," Andersen says.
Sanford PD has also empowered its officers to pitch community relations projects. "One of our officers wanted to do fishing for kids, and he pitched it to me and Deputy Chief [Eric] Small. We said, 'OK. Tell us what you need,'" Andersen says. "It will now be a yearly even called 'Casting with Cops.'" The event held in the center of town includes a fishing competition. "The officers are there to interact with the kids. That's front line community policing."
In addition to the Sanford PD's success with its mental health unit and recruiting team, Andersen says the decentralized command concept has yielded positive results in crime prevention and crime response. "It works great because we're putting the decision-making authority into the hands of the officers who know how to best achieve the mission."
Another change Andersen affected when he assumed command of the Sanford PD was changing the department's mission statement. He says the previous mission statement was confusing and hardly any of the officers knew what it said. "We didn't just develop it and push it on the officers," Andersen says. "The mission statement was developed with input from all our officers so that they have ownership."
The Sanford PD's mission statement is now extremely easy to remember. It reads: "Our mission is to provide excellent law enforcement service."
Andersen says it sums up what the Sanford PD is all about. "Providing excellent law enforcement service is being respectful, caring about the community, and responding when they are supposed to respond. It's defending the Constitution and policing with courage and integrity. With a simplified mission statement, our officers can ask themselves, 'Am I providing excellent law enforcement service?' And they are empowered to do just that."