Attending APCO International's 2013 conference in Anaheim last week made it clear to me that public safety companies are pushing their chips in on officer connectivity as a growing market segment.
On-body video systems, broadband LTE networks and hardware, P25 Phase 2 radios and even biometric monitoring systems are entering the market at a rapid clip to help law enforcement officers gather intelligence about a multitude of threats and quickly process that information in a command center.
Mutualink demonstrated real-time multimedia interoperability using Google Glass, showing how its communications platform can selectively share two-way voice and video. The technology, which will operate on FirstNet's 4G LTE network, allows agencies to share data between seemingly incompatible radio systems.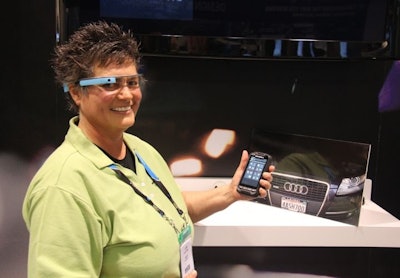 In another concept for using Google Glass in law enforcement, Motorola Solutions showed a software solution that integrates license plate recognition into the on-body camera system. Plate reads are sent from the officer to a connected patrol car and verified as clean or stolen.
Motorola also announced it has begun shipping its Zephyr Bioharness, a strap worn under a uniform that sends physiological health-status information to the command center. The system measures heart rate, breathing rate, skin temperature, activity, and posture and sends "officer down" alerts.
Harris Corp. showed its dual-band rugged LTE tablet (RF-3590) that operates on FirstNet Band 14 LTE as well as 3G cellular networks.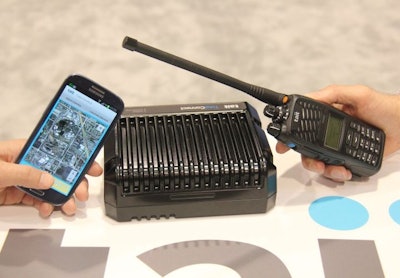 Tait Communications introduced its new portable P25 Phase 2 radio (TP9400) with built-in GPS and a rugged grill designed to shed moisture. Tait also unveiled its Total Connect system, which incorporates a two-way P25 radio, Wi-Fi router, and dual-modem system supporting Band 14 and commercial cellular networks. It also includes a smartphone app, allowing officers to communicate with a smartphone via a push-to-talk methodology.
Cassidian Communications brought its Broadband Vehicle Router (BVR) 700, a dual-purpose hardware solution introduced in 2012 that supports 3G, 4G, and LTE bands.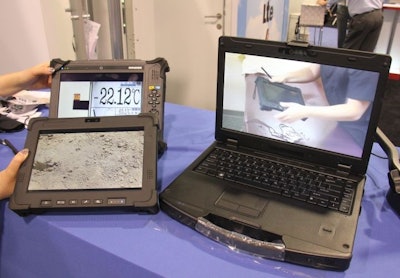 GammaTech introduced a pair of rugged tablets (CA10 and TA10) and a rugged notebook (SA14). The TA10 is a fully rugged tablet introduced in June that's rated to MIL-STD certifications for shock resistance and salt or fog.
NEC Corp.'s MB4300 Series eNodeB is a base station that can be mounted to a power pole and offers Band 14 (700 MHz) connectivity.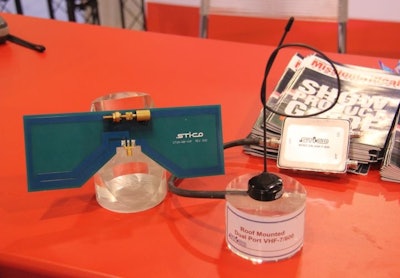 STI-CO Industries brought its new Dual Port Roof Mount Antenna with an integrated coupler with two ports for simultaneous VHF and 700/800 MHz operation.