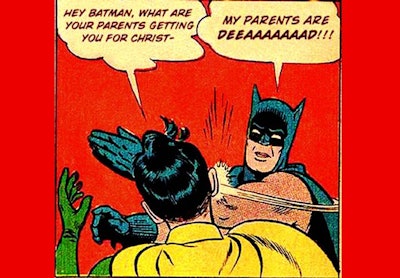 Back in my late teens I learned a hard lesson about collectibles such as baseball cards and comic books.
At that time the value of these things was zooming, so I opened up the boxes of comics and cards that I saved since my childhood and I realized that I had some pretty cool stuff. First editions of Silver Age superhero titles, rookie cards for Hall of Fame ballplayers, etc. Dollar signs must have literally popped up in my eyes.
Then I started to do a little more research, and I quickly learned that my childhood treasures were practically worthless and better kept for sentimental value. Those first edition comic books' covers were worn and sometimes torn, those rare baseball cards were dog eared and had scars from where I had taped them into scrapbooks.
You see, the thing that hardly anybody mentions about collectible baseball cards and comic books and toys is that they have to be in near-perfect condition to have any real value. A torn cover on a rare comic can reduce the value by 90 percent. Baseball cards have to be so sharp and crisp that you could shave with them. And a vintage G.I. Joe or Barbie is much more valuable if it is still in the box and never opened.
Collectibles are fragile and a very poor investment. That's why I was stunned earlier this week when I read that a methamphetamine ring in Colorado allegedly used comic books for money laundering.
From the Denver Post:
Two brothers accused of running a drug ring that imported and distributed millions of dollars worth of methamphetamine in Denver bought hundreds of collector comic books to launder the money, authorities said Monday.
Police seized comic books worth at least $500,000 while arresting Aaron Castro, 29, of Commerce City and Alfonzo Castro, 30, of Denver, Colorado Attorney General John Suthers said.
"It was their intent to launder money, and their choice was collector comic books," Suthers said.
Some of the seized comic books were first edition Superman and Batman publications encased in protective plastic covers, Adams County District Attorney Don Quick said.
The last place in the world that you would want to invest your money is in comic books. Unlike gold or diamonds or money, collectibles like comic books nose dive in value when the economy tanks.
Oh, and "Diamonds May Be Forever," according to DeBeers and James Bond author Ian Fleming, but comic books have a really short shelf life.
Comic books are paper and ink. Before the mid-1980s, almost all comic books were printed on pulp paper, only slightly better than newsprint. As comic books age, the acid in the pulp essentially turns them into brown sludge. This is why collectible comic books are rated on the whiteness of their pages and the brightness of their ink.
In order to keep vintage comic books in good condition, you have to send them to a lab to have the acid in the ink and paper neutralized and then encase them in Mylar and never expose them to air. These things have all the staying power of a snowflake.
So if you had a few extra million in cash laying around that you needed to make clean, comic books are about the worst possible investment. You'd be better off wrapping your cash in Mylar and burying it. The rate of return would probably be the same.
The Colorado case would be laughable if it weren't about a group of slimeballs, some with apparent gang affiliation, selling a nasty drug.
But I leave you with this thought: Can you imagine how many geeks and nerds in costume will show up for the police auction when they put these things on the block? It will look like Comic-Con.