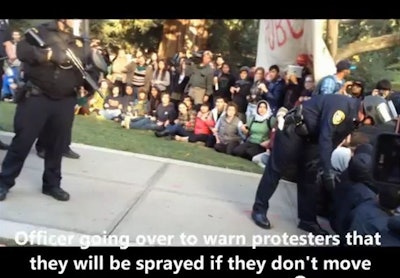 The police-procedure critics were appalled when a campus lieutenant pepper-sprayed protesters during an Occupy protest at the University of California, Davis.
As with other too-numerous-to-list instances of videos showing officers using force, this one was also posted online. The short clip of Lt. John Pike casually pepper-spraying demonstrators went viral, resulting in the suspension of campus police Chief Annette Spicuzza, Lt. Pike, and a third officer.
The incident also enveloped UC administrators and politicians in a firestorm of controversy—Gov. Jerry Brown called for a reevaluation of police less-lethal training—and even sparked an Internet meme depicting Lt. Pike pepper-spraying everything from figures in a George Seurat painting to the face of the Statue of Liberty.
Like earlier gotcha police videos, this one also failed to tell the whole story. Thanks to the release of a new video showing extended coverage of the protest, we're getting a more accurate picture of what really happened.
The UC Davis College Republicans attended the protest and brought their recording devices. On Nov. 30, one club member uploaded a longer (8 minutes, 53 seconds) version of the Nov. 18 protest that includes footage spliced together over a longer time period. By including extended footage, annotations and quotations from protesters and police, this longer video paints a very different picture.
This time, the protest is presented as a hornet's nest of officer-safety hazards. At the top of the list is an escalating, angry mob bearing down on a much smaller contingent of campus officers.
The video depicts the mob shouting, "F**k the police" in unison and giving an ultimatum after several arrests: "If you let them go, we will let you leave."
Adults are seen in this video, dispelling the myth that this were just a group of harmless kids holding hands and singing folk songs. Officers are shown giving dispersal orders, and repeatedly trying to convince students blocking a thoroughfare to leave. At several points in the clip, officers attempt to peacefully remove protesters, who continue to resist.
Perhaps the most enlightening section comes at the 6-minute mark, when we first see Lt. Pike. He warns protesters that they'll be pepper-sprayed if they don't move. At the 6-minute, 28-second mark, Lt. Pike emerges from the group of officers carrying the OC canister.
Lt. Pike repeatedly shakes the canister in plain view of the protesters, giving them ample warning. Even after Lt. Pike deploys the spray, protesters are seen resisting officers' attempts to clear the thoroughfare.
After watching the video, we reached the conclusion that it offers a familiar reminder for cops—video "evidence" offers an often deceptive, or at least incomplete, version of a police force encounter. We're glad to see this one come to light.
Watch "Alternate View of UC Davis Pepper Spraying," and judge for yourself.