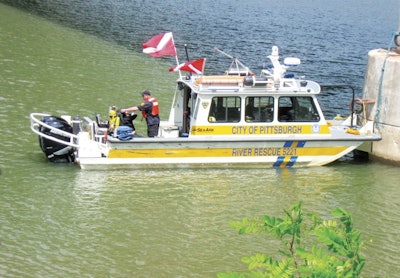 Three major rivers cut through the heart of Pittsburgh, and the city's public safety agencies have to be ready and able to respond to emergencies on the water. That's why the city deploys a well-trained River Rescue Unit. The River Rescue Unit (RRU) responds to suicide attempts on the river, searches for and rescues lost and endangered swimmers, and makes sure boaters aren't breaking the law.
The RRU was established in 1986 after a poorly organized river rescue revealed the need. At the time there was no emergency unit assigned to the local waters, and the lack of rescue equipment and insufficient training among emergency responders led to the victim being towed to shore by a rope that was tied around his feet. He died hours after the botched rescue.
There are two separate bureaus in the RRU: the Bureau of Police River Patrol Officers and the Bureau of Emergency Medical Services' (EMC) Scuba Search and Rescue Team. The EMC divers are not sworn police officers.
"We're one of the only units within the state, that I know of, that actually has two bureaus working together," Master Patrol Officer Samuel Muoio says.
Scuba and Patrol
EMC's scuba team is responsible for surface and subsurface water rescues, which entail diving into the river to search for lost victims or assisting distressed swimmers. Members of the scuba team are also certified paramedics who provide emergency care for victims until land-based medical assistance arrives.
Pittsburgh police officers assigned to the unit's Bureau of Police River Patrol Officers are responsible for guiding the members of the scuba team while they are under the water. A headset built into the masks of the divers allows for two-way communication between themselves and officers on a boat. Communication between officers and divers is crucial to saving lives, as sometimes visibility is impossible underwater. Officers are the divers' eyes and ears from above.
In addition to rescue, the unit is responsible for patrolling the river and enforcement of Pennsylvania boating law. RRU officers enforce laws regarding no wake zones, equipment violations such as not having enough life vests on board; and boating under the influence (BUI).
Training and Response
Members of the scuba team go through 400 hours of training before becoming part of the unit. This includes a scuba certification program, which teaches basic scuba operations, and a dive and rescue program, which trains them to be public safety divers. Courses incorporate lessons on techniques for locating victims and how to bring them to safety.
The police officers new to the unit go through 80 hours of boat operation training before being scheduled. They how to dock a boat, how to raft off to other boats, how to board moving craft, and how to work with divers. Officers new to the unit also received training on boating laws and regulations. In addition, a physical must be passed by officers, including a swim exam.
About 100 emergencies are responded to a year by the RRU. These calls include people in the water who are not able to get themselves out, searches for bodies of drowning victims, bridge jumpers, and distressed boaters who are having trouble with their vessels. Summer is the busiest season for river rescues since the warm weather draws more people and boats out to the water.
The unit is equipped with a variety of tools and vehicles to assist in rescuing victims. Equipment includes night vision flares; sonar detectors, which help locate victims underwater by painting a picture of the bottom of the ocean in detail; scuba equipment, including oxygen tanks, dive flippers, protective gloves and dry suits; medical equipment; and life vests to be given to victims.
The unit also has four powered crafts at its disposal: two 30-foot SeaArks Little Giants, a 25-foot Boston Whaler Guardian, and a 15-foot Husky Airboat. Inflatables are also available for use in more remote areas or in flooded locations.
The two SeaArk Little Giants serve as primary response boats. Their features include GPS, sonar for underwater detecting, radar, and night vision cameras. The boats also have a large interior cabins, allowing for plenty of room for crew members. Scuba equipment is stored on the boat as well.
In addition to their boats, a 1989 Chevy Box Truck is available for use. The truck contains multiple sets of suits and dive gear as well as other rescue equipment. It also has boat towing capabilities.
Joining Up
The unit doesn't have a specific pre-requirement for applicants who are interested in applying, but current members have had some type of relatable experience in past employment. "My past experience, I was with the fish commission, where I did boating law," Muoio says.
Being able to follow directions, knowing your way around boats and being able to handle yourself on the water, are some primary things that make applicants more desirable.
The job does have its challenges, as the diver has limited visibility due to debris and muddy water. "The bottoms of the rivers are pretty dirty," Muoio says. "This adds risk to the diver's safety and also puts pressure on the officer on the boat to get the diver back safe."
Muoio says the most rewarding part of the job is saving lives and being appreciated for doing so. "Having somebody just come up to you and say 'thanks for what you do is a great feeling," Muoio says.
Editor's note: This special unit profile is the latest in a series of Web-exclusive career profiles on PoliceMag.com. Read more profiles here.