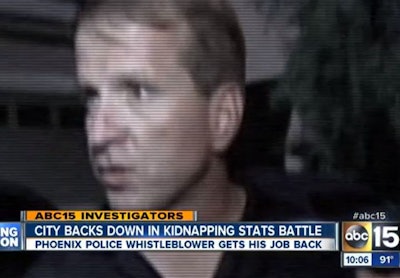 A Phoenix Police sergeant who was fired for blowing the whistle on bogus kidnapping stats will get his job back in a settlement of his wrongful termination lawsuit.
Sgt. Phil Roberts filed a federal lawsuit against the city in 2011, alleging wrongful termination and retaliation.
Beginning in 2010, Roberts began questioning the agency's kidnapping statistics that eventually caused media outlets to label the city as the kidnapping capital of the country. The agency reported 358 ransom kidnappings in 2008.
In 2009, the agency created its Home Invasion Kidnapping Enforcement (HIKE) Unit funded by federal stimulus grants.
Roberts, who joined the agency in 1985, wrote several memos he claimed got him fired in January. The agency claimed he made untruthful statements in the memos.
An ABC15 investigation showed the city's statistics weren't even close to being accurate.