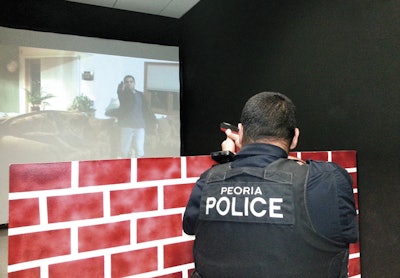 Shoot-don't-shoot judgmental pistol instruction has been a fixture in law enforcement training for decades. And since the mid-1990s computerized simulator systems that use laser beams instead of live ammo have been the tool of choice for shoot-don't-shoot training. Now advancements in technology have transformed simulators into much more than just shoot-don't-shoot tools.
The contemporary use-of-force simulator scenario has become much more of an immersive and realistic experience for the student. Simulators now offer HD video, theater-quality sound, shot mapping, cameras for videoing the student for instructor and student review, and the ability for agencies to use their duty weapons with laser inserts. Some simulators are even available with 3D video and 360-degree reactive displays.
All of this technological innovation has led agencies and instructors to re-examine the ways they are using simulators for both recruit and in-service training.
Judgment Pistol Shooting
Tim Miller is a firearms trainer with the Food and Drug Administration's Office of Criminal Investigations. He is responsible for training the FDA's 250 federal agents in judgment pistol shooting. For three years now he has relied on an IES MILO system for use-of-force scenario training.
When Miller arrived at the FDA from the U.S. Secret Service in 2004, he was tasked with building a firearms training program that went above and beyond qualification, as all of the agency's law enforcement personnel were experienced federal agents. "We just didn't have a formal firearms training program that fit our needs," he says.
Building that training program, Miller focused on three elements: tactical firearms training, force-on-force training, and judgment shooting.
Miller has found the FDA's MILO simulator to be extremely valuable as a tactical firearms training and judgment shooting instructional tool. But he likes to take the training beyond the simulator scenario. MILO sessions for the FDA agents often include requirements for combat reload and clearing stoppages, Miller explains. "Sometimes the agents are even required to tend to casualties and triage after the scenarios have run," he adds.
One of the things Miller says he likes most about the IES MILO system is its surround sound and HD video that make the scenarios more real. "I also like that it can track shots and the camera films the agents so I get feedback for what they do. It's a great training tool." Miller says he is so happy with the performance of the FDA's MILO system that he plans to place one in all six of the agency's field offices.
Training for the FDA's Office or Criminal Investigations agents has changed greatly in recent years, according to Miller. "We protect the food and drug supply," he says. "So traditionally we were training only for what we did on the job. Now I train active shooter. In years past I wouldn't have been concerned with that."
Miller says the MILO and its numerous scenarios have been extremely useful for the active shooter training and that's important. "Our agents carry 24/7 and a lot of them live in Maryland near the Columbia Mall (site of a recent active shooter incident)."
Intro to the Handgun
The Metropolitan Police Department of Washington, D.C., has been using IES simulators since the late 1990s when it purchased its first Range 2000 model. Today, D.C. Metro, which fields about 4,000 officers, has three MILO systems. One at its academy, another at FLETC North in Cheltenham, Md., and one in its new Tactical Village.
Officer Danny Lee with the department's firearms training unit says the applications for the MILO simulators vary with need. "It's used for both in-service and academy training," he explains.
Much of the department's simulator training now takes place in its new Tactical Village, a 40,000-square-foot training facility that includes streets, store fronts, school rooms, and a variety of other structures. According to Lee, the tactical village can be used for force-on-force training, crime scene investigation training, and basic patrol operations training, and it features a simulator room. "It's an amazing facility," he says.
The simulator room, which Lee calls the MILO room, is in what Lee calls "a nice-sized garage area." It features a 12x8-foot display, props, and cover and concealment options such as walls made of plywood.
In addition to in-service scenario training, Metro D.C.'s MILO systems are being used to introduce recruits to one of the tools of the trade. Many of the D.C.-area recruits have never fired a pistol before, and MILO and its CO2-charged recoil help them learn the basics. "Before they fire their first live rounds, we get them in there and we make sure they understand sight alignment, the grip, and the stance," Lee says.
For in-service training, Metro D.C. plans to film its own scenarios in D.C. to give them an extra edge of realism. "We have a media production crew, and we plan to film some new scenarios as soon as the weather breaks," he says. "We're even going to go the Navy Yard and recreate some of the situations that went on down there [during last year's active shooter incident]."
Skill Builder
Officer Lon Bartel serves as a training instructor for the 200-sworn Peoria (Ariz.) Police Department and has been working with IES simulators for nine years.
A huge fan of the MILO system, Bartel has hosted user conferences for regional IES customers. "I just hosted one where IES came out and did a couple of days of training for free. They upgraded systems and gave new scenarios to the attendees," he says.
Bartel is appreciative of the free scenarios but his favorite application for Peoria PD's simulator doesn't use them. "We use our MILO more as a skill builder, not for judgmental shooting," he says. "One of the newer system features is called GraphX. It allows me to put targets on the screen that are moving. On a live-fire range trying to set up a moving target system is incredibly challenging and incredibly time consuming."
Another advantage to the MILO system as a shooting skills improvement aid, according to Bartel, is that it doesn't incur a cost per shot. "I can bring officers in there and have them shoot moving targets at no additional round count," he says.
Bartel also likes the MILO for recoil training. "The CO2 blowback is not as sharp as it is with a real gun," he says. "So it's more about getting their minds conditioned to the fact that the gun is going to have a disturbed sight picture after it goes off than training them to handle the actual recoil.
Although Bartel says he sees great value in the simulator as a skill-building tool, that doesn't mean the Peoria PD doesn't use its MILO for judgmental training. The agency has a dedicated room and a variety of cover and concealment props for running shoot-don't-shoot scenarios.
FOR MORE INFORMATION: