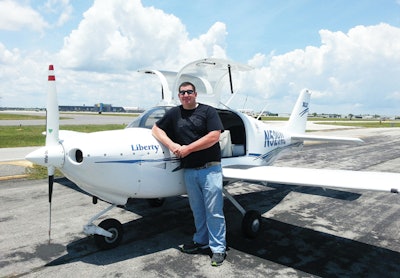 Law enforcement is a profession that many use to define themselves, but allowing your identity to be based solely on your job is not a good idea. Even for someone who loves this line of work, the stress, difficult schedules, and continued contact with society's bad seeds can take a toll. Pursuing an activity outside of policing gives the mind and body a much needed breather. Some officers find surprising ways to fulfill this goal.
Hunting and fishing may spring to mind as the most popular off-duty pursuits for law enforcement officers. And while they are tried-and-true pastimes that relieve stress and provide a change of scenery, they aren't for everyone. From music to sports to the paranormal, following a passion—whatever it might be—provides its own rewards that can improve your overall outlook on life. And going back to the job after a fulfilling break can make you a better police officer, as well as a more well-rounded person.
Let's look at some officers who have found interesting and offbeat ways to relieve stress.
Artie Rodriquez, Country Singer
Lt. Artie Rodriguez of the Walton County (Fla.) Sheriff's Office grew up in a law enforcement family, so becoming a deputy was a natural career choice. But music has always been his other passion.
He's known as "the singing deputy," and his sheriff and entire agency are supportive of this endeavor. "That's kind of a signature thing for me," says Rodriguez. "When I'm not wearing my badge on my chest it's on my guitar strap. I'm very proud." He's also written several songs inspired by his law enforcement career, including "Honkytonk Polygraph."
With his brand of traditional country music, Rodriguez has gained popularity in the United Kingdom, where he recently appeared on the cover of Country People Magazine UK. That exposure has helped boost his music sales on iTunes, cdbaby.com, and his own Website, artierodriquez.com.
"You've heard the saying, 'Don't quit your day job.' Well I try to balance both worlds," says Rodriquez. "Maybe at some point I'll do music fulltime. But I love my job and am enjoying being a lieutenant with the sheriff's office. I've got the best of both worlds."
Christin Rudell, Long Distance Cyclist
"I love cycling both for how it makes me feel physically and mentally," says Officer Christin Rudell of the Indianapolis Metropolitan Police Department. She has long enjoyed mountain biking both for recreation and as a member of her agency's bicycle response unit, but long-distance cycling is a different ballgame. Inspired by her wife, who had completed a weeklong 545-mile charity ride, she traded in her mountain bike for a road bike and started logging miles.
Rudell works nights, so riding her bicycle during daylight in the sun and fresh air is a nice change, and it's helped improve her overall health. She and her wife have joined a cycling group that represents Rudell's agency in community rides and the couple had planned to ride in a charity ride this summer, but that was before Rudell's wife found out she was expecting. They now have two newborns at home.
"We hope to make this a family activity as they get older to teach them the importance of being active and working hard," Rudell says. "For now, I think that cycling will be a good release from the stress of mommyhood and help us to appreciate each other and the babies if we can have short mental breaks to keep our sanity."
Christopher Keller, Bagpipe Player
Long before he joined law enforcement, Officer Christopher Keller of the Madison (N.J.) Police Department learned to play the bagpipes and joined a pipe band. Inspiration for both pursuits came from St. Patrick's Day parades Keller attended as a child.
Now, Keller belongs to a pipe band made up of various public safety professionals that plays in parades and at funerals, as well as at other community events. He also regularly performs at a local senior center and enjoys helping to represent law enforcement in a better light.
"There are some somber things you do with this, but you do get a lot of enjoyment and satisfaction in trying to help in whatever way you can," Keller says. People tend to view police officers negatively, so he appreciates the fact that playing the bagpipes allow he and his bandmates to be there for communities in good times and in bad. "When you come together as a group of 25 to 55 people and play during a parade or ceremony, it's impressive and very moving."
Michael Blevins, Runner for Charity
Michael Blevins is an officer and department chaplain with the Sahuarita (Ariz.) Police Department. Now he has added charity runner to his roster.
Blevins ran competitively in college, but he hadn't kept it up. About four years ago he started running again for exercise and soon discovered he could also raise money for a cause he believes in by participating in local races.
"I was looking for an organization that has a good reputation, fiscal accountability, but is also in line with my belief system," Blevins says. Through Team World Vision, he can run in any race and accept donations on behalf of World Vision, which works with communities in Africa and Haiti to provide them with access to resources like clean water and education. This has helped him get out of a rut at work. Running allows him to "sort things out" in his mind, in addition to building his body's strength and endurance. It's also a way for Blevins and his wife to spend time together away from their four kids.
"Being able to raise awareness, maybe $50 a mile, that will change a generation of people for their whole life with clean water is pretty amazing," says Blevins. "It's a hobby, but it has more meaning to it because it impacts other people."
Tom Wenzl, Geocacher
Never heard of geocaching? You're not alone. Tom Wenzl began the activity three years ago, and this high-tech version of orienteering has only existed since 2001. Wenzl, a senior patrol officer and motor officer with the Mt. Vernon (Wash.) PD, discovered the hobby as a way to recover from a back injury. His doctor recommended hiking as a beneficial form of exercise, but Wenzl found walking in the woods without purpose boring. So on the advice of a friend, his wife suggested geocaching. The first day he and his wife started looking for hidden trinket-filled containers, or caches, they were hooked.
"We went out the first day because after we purchased the app, it was free, so why not try it," says Wenzl. "We found 10 the very first day. Then we went straight home and upgraded to the premium account."
Now Wenzl and his wife spend much of their free time hiking in their area and traveling far and wide to search for "treasure" by following GPS coordinates just for the fun of it. They even attend conventions with like-minded adventurers. "I lost a lot of weight doing it, and we just really enjoy the hunt," he says.
John Levy, Paranormal Investigator
John Levy spends his days as a police officer with the Philadelphia Police Department and many nights as a paranormal investigator. His wife and fellow officer Amanda is part of his team. "We're not out there to say your place is haunted, but to debunk it. If we come up with a reasonable explanation, that helps people," he says. Although one disappointed woman actually sued him for determining her home wasn't haunted. Still, some things he can't explain.
"We take photos, use digital voice recorders and EMF detectors. A lot of the time it's really boring," says Levy. "But there are the nights that you get the most amazing evidence. It's jaw dropping." Like the time he felt someone poke him at a reportedly haunted nursing school when no one was around. He asked aloud, "Were you the one who touched me?" He didn't hear anything at the time, but when he went back to listen to the audio recording, he heard a voice unmistakably say, "Did it hurt?"
In addition to investigating supposedly haunted homes and businesses for free, Levy's Olde City Paranormal team holds fundraisers for local historical buildings in need of repair. The group holds four-hour "open investigations," showing people how to detect unusual readings that could be ghosts at the old buildings for $40 a person to help fund restoration projects. He also sells sweatshirts and mugs displaying the group's "OCP" logo to pay for updating equipment. But Levy is more proud of his group's preservation work than its ghost hunting.
"Now at Graeme Park they're holding weddings and dog shows and doing Halloween ghost tours. We basically saved that place," says Levy. "What will be left of American history for our kids and grandkids to see if we don't save buildings like this?"
Tracy Wirth, Martial Arts Instructor
Det. Tracy Wirth investigates minor crimes at Joint Base Lewis McChord in Washington. But in her off time, she teaches children the relatively new martial art of ChunJiDo at her local YMCA.
She enjoys her job as a detective because it's like solving a puzzle, she says. She enjoys teaching martial arts as an assistant instructor because of the physical activity and the joy she gets from sharing in her students' triumphs. "I like working with the kids," she says. "It's so fun, especially when they get a new belt."
Wirth became a black belt herself in ChunJiDo last year. In addition to a workout, performing the discipline's katas and other moves gives her a way to "decompress." The former member of the Military Police Corps also appreciates practicing ChunJiDo with her two sons, one of whom is a Marine, as well as celebrating their progress. "I'm a single mother so it's just me and my two boys," Wirth says. "It's nice to have something we can share together."
Mike Hanafin, Therapist
Sgt. Mike Hanafin of the Scottsdale (Ariz.) Police Department has a background in several lines of work. He began as a businessman, but found it "boring" and unfulfilling. He pursued a career in law enforcement, but wanted to further explore religion. So he attended seminary for four years and became ordained. That training led to his finding therapy as a vocation.
"As I grew in my faith I started to think that God was calling me to relate to individuals on a one-to-one basis rather than the larger church context of a congregation," says Hanafin. This desire to establish a deeper human connection is also why he finds a different type of satisfaction in his work as a therapist compared to his law enforcement job. He sees them as two sides of the same coin. "With therapy I can help people on an individual basis and without that enforcement aspect," he says.
For Hanafin, being a therapist is his outlet, his way of interacting with people outside of law enforcement. It reminds him that not all of society is as bad as the 5% of "terrible individuals" LEOs typically interact with. And while he doesn't plan to retire from law enforcement for another five to 10 years, once he does he wants to focus exclusively on therapy. His ideal role would be working with members of law enforcement, firefighting, and the military who suffer from PTSD.
"This is it. I've found my calling," says Hanafin of being a therapist. "I think I'll go beyond my master's degree and get a doctorate."
Joe Wells, Sports Announcer
Patrolman Joe Wells worked in broadcasting for nearly 10 years before he joined law enforcement. He currently serves with Munster (Ind.) PD, but after all these years he still books gigs as "Announcer Joe," announcing for sports teams in his community and doing voiceover work online.
"For sports announcing, I really enjoy getting to the local youth games that are not covered by the mainstream media," says Wells. "It's considered 'novelty broadcasting' in the business, but it's a nice market and the kids and fans really appreciate the coverage."
Once in a while Wells has difficulty switching gears when he goes back on patrol, with comedic effect. "Sometimes if I come to work after an announcing gig or recording session, my voice is stuck in 'radio announcer mode,'" he says. "It usually gets a comment or laugh from dispatch or someone in scanner land."
But what Wells calls his "hobby-job" never actually interferes with his work as an officer. In fact, spending time as an announcer is a great benefit to his law enforcement career. "Getting away from police work on occasion lets me come back refreshed and renewed," he says.
John Braman, Pilot
On a whim, Dep. John Braman of the Volusia County (Fla.) Sheriff's Office began learning to fly a plane as a birthday present to himself this year. "There's nothing cheap about it, but for me it's worth it," says Braman. "I'm paying for the experience."
By chance, the deputy was part of a detail that guarded and escorted a small plane a man brought to the courthouse and parked in the parking garage. This odd incident piqued Braman's interest in flying, and now he's taking classes to obtain his pilot's license. So far he's flown a Cessna 172 four-seater propeller airplane twice.
"It's the ultimate getaway from everything. When you're up in the air you get away from any type of reality on the ground. It's relaxing," he says. "Well, the first flight wasn't, but the second one was," he qualifies. During his second flight he was able to apply what he had learned in his first hair-raising piloting experience. This gave him a sense of accomplishment, and allowed him to enjoy a new view of Daytona Beach. "With the smaller plane you really get to see the beautiful scenery: the clouds, the sun, the ocean," Braman muses. "My goal is to get to share that with my kids, share that view."