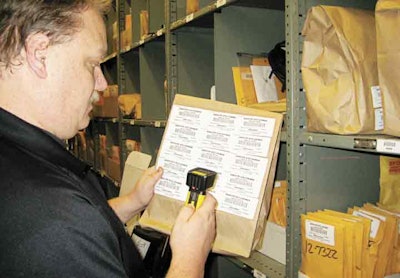 Editor's Note: View our photo gallery, "Evidence Collection and Storage," for more evidence collection tools.
Managing evidence is one of law enforcement's most critical tasks. Yet for thousands of police agencies it's overwhelming due to insufficient or no training, rotating personnel, low priority from administrators, and inadequate evidence tracking methods. Still, many agencies tackle this challenge superbly, and their success can be instructional for those still struggling to make evidence management work. Automating evidence management enables property room personnel to know where their evidence is and why.
Training and Monitoring
Two huge issues are always at play regarding the evidence challenge: managing evidence chain of custody, and reviewing evidence to determine if it's no longer needed. According to Joe Latta, executive director for the International Association for Property and Evidence, several priorities must be established to control evidence smoothly. Most urgently, he says, "This requires support from the very top management of the police organization. There must be direction and leadership." Once the department support is set, Latta suggests identifying necessary protocols, assuming some kind of automated solution is in place. These include:
Training—Thorough and ongoing training is especially important for learning how to generate evidence review and disposition notices when an evidence item has been sitting on a shelf and may have exceeded the statutory time limit for retention.
Tickler Files—A good evidence management system lets property room personnel continually check evidence status and verify if it is checked out by an investigating officer or has been returned and did not get lost on its way to court or the crime lab.
Barcoding Evidence Items—Barcoding allows you to build a comprehensive inventory of evidence. "For the most accurate records, you can assign every item a unique barcode," Latta says. "Otherwise, if several pieces of evidence were missing from a bin or a bag and only one barcode was assigned, you'd never know what evidence was to be in there if any of it went missing."
Firearms/Drug Destruction List and Money Calculation—Special classifications and categories should be maintained for firearms, drugs, and money. A thorough software system will let you know how many weapons you have, the amount and type of drugs, and a current total of how much cash is being stored. Many agencies keep millions of dollars in their evidence safes.
Inventory and Purging—Automating evidence management enables agencies to track the quantity of items flowing in and out of a property room annually. Software should produce reports to police administration on inventory levels, which enables evidence to be routinely reviewed, then returned to the owner or purged. Notes Latta, "It's not unusual for evidence inventories to double because we're taking in far more than we're getting rid of. Few property room personnel quantify this, which is why purging ultimately becomes their Achilles Heel."
Integrated vs. Standalone
There are two avenues to pursue for managing evidence: integrated software systems, whereby evidence "modules" are part of an overall records management system, and standalone evidence management systems. There are pros and cons for each system. Which one you choose depends on the desired workflow of your property room, the desire for paperless operations, and the specific functionality offered in the software.
Chief Robb Bell of the Hamilton (Ill.) Police Department has experienced several benefits using an integrated evidence control system. He uses the Crimestar RMS System from San Jose, Calif.-based Crimestar Corp. Its Property and Evidence Module performs numerous tasks: unique descriptions/categorizations of evidence and why it is in an agency's possession; digital photos of evidence; maintenance of item status and physical tracking to ensure proper chain of custody; barcoding/generating of labels.
Cross-Referencing Cases
One of the Crimestar module's biggest benefits is its ability to cross-reference evidence with cases. Just by scanning the barcode assigned to any evidence item, Chief Bell and any Hamilton PD officers using the module can see the current status of an evidence item as well as all information regarding any case tied to it. "It's a great advantage having all of this information together in one system," Bell says. "I know what case goes with what evidence." This capability proves particularly helpful in the field, when an officer is dealing with a suspect and knows that person also has been a suspect in other crimes. "We can quickly link any possible records on a laptop in the field, such as a warrant, criminal history, and recent incidents, and these records might be linked to evidence," the chief says.
Another benefit is the security of evidence at all times. Anyone in the police department can view evidence contained in a photo or electronic record within the software, but the person cannot change anything about it or delete the item. Only Chief Bell can perform these tasks. "This is very helpful, and very credible for when we go to court and are questioned about who has access to the evidence," he says.
Hamilton PD has seen increased work efficiency among its officers after adopting its automated evidence control solution. Officers are better able to concentrate on a case by using electronic evidence management solutions instead of the department's previous method of thumbing through a paper report. "This saves a huge amount of time, especially for situations having a small window where as a police officer you know a suspect has committed a crime and you just have to get enough evidence to make an arrest," Bell says.
Standalone Solution Benefits
Due to the huge influx of evidence items within its property room each year—just under 10,000—the Chico (Calif.) Police Department knew that after abandoning its former inefficient evidence management system, a new one must be standalone and highly customizable. Now, with the EvidenceOnQ system from Seattle, Wash.-based FileOnQ in place, the department can customize evidence tracking to fit its specific requirements.
The department likes its new solution because its capabilities go beyond those of most integrated evidence systems. The new software handles these tasks: fully customizable home screen, real-time tracking of all items, ability to set retention status on all items for improved review of evidence, generating reports and forms that were created manually, and easy queries.
It is the real-time environment that the EvidenceOnQ solution gives Chico PD that makes it so compelling for its users. "This electronic tracking system provides me with real-time locations of each evidence item," explains Joe Moralli, the department's property section coordinator. "With the older, integrated system, locations of items were not always correct because we had purged paperwork in various phases, so some items could be purged, but not others. You simply could not rely on the data entry in the integrated system because it was not real-time."
Cross-referencing of cases with evidence can be somewhat harder for standalone systems compared to integrated systems. Although Chico PD's software has a built-in feature for importing and exporting data to other systems, the department chose not to interface with their RMS. A combination of the RMS program's limited capabilities and the expense for this interface required of the RMS vendor led the agency to decide against using it.
Retention Review and Purging
As with most police departments, Chico PD's ability to control purging of evidence is the underpinning to its evidence management system's overall effectiveness. Moralli authorizes all purging in his property room; knowing what evidence to purge and under what circumstances is essential.
For example, Moralli says, "You might have robberies, burglaries or assault with a deadly weapon, any of which could have no suspect. So you need to be aware of your state's statute of limitations." Using his evidence software's retention review feature, Moralli can link evidence to California's statute. "So if I have a misdemeanor case, we assign a date whereby in a year the system will bring that item up for review," Moralli says. The upshot of using EvidenceOnQ for Chico PD, Moralli reveals, is that his personnel now spend less time processing incoming evidence and more time on the purging and release of it.
Merging Systems
In 2005, the Tucson (Ariz.) Police Department chose an evidence management system called simply The BEAST (Barcode Evidence Analysis Statistics and Tracking), a standalone solution from Porter Lee Corp., in Schaumburg, Ill. Although not integrated initially, today it is. The police department recently installed a new records management system (RMS) with a built-in evidence module that links together the Tucson PD, South Tucson PD and the University of Arizona PD. The Tucson PD property room was given the choice of dropping The BEAST and instead using the new RMS system to track evidence. Ultimately, however, the department's board agreed it made more sense to integrate The BEAST into the RMS program. So far, this forced fit seems to be working.
"We're still working through the kinks," confesses Nancy McKay Hills, evidence superintendent for Tucson PD. But it beats the alternative. "We would have over 600,000 pieces of evidence that are barcoded to re-enter into the RMS system had we decided not to integrate the two software packages," McKay-Hills adds. Now, the RMS evidence module is used only for listing evidence items while The BEAST manages chain of custody. Once a piece of evidence is entered into it, the user hits a "save" button and the item's corresponding description is transferred into the RMS system's evidence module.
So far, McKay-Hills laments that she must manage two separate databases arising from the merged systems. When a correction must be made in one system, she must enter it in each separate program. "My audits have increased in trying to verify everything's being done correctly," McKay-Hills says. Yet, she's seeing many advantages from marrying the two programs.
One advantage is that Tucson PD and the area's other two police departments all use The BEAST and RMS programs. "So, if a bike is stolen in South Tucson and we recover it in the City of Tucson, it would show up throughout the networked software programs when it came into our property room," McKay-Hills says. Also, The BEAST is allowing her to create, as she describes, an "assembly line" kind of process for evidence tracking. "This means that although the three police departments are working independently, they still can see the evidence items go through the chain of custody."
The BEAST has some other pluses. With it, McKay-Hills can generate reports and evidence expiration dates, send automated notices to the public, and audit trails to catch errors or for tracking evidence that has been misfiled.
Although Tucson PD began with a standalone evidence tracking system, it now sees the payoff of integrating it into its RMS system. "An integrated system can give an alert about a serial number for a piece of evidence that matches a case you may not have known existed," McKay-Hills says. "This allows you to get that evidence back to the appropriate owner, if necessary." The integrated approach means activating all kinds of search fields in the evidence and RMS programs, too, aiding police investigations.
McKay-Hills believes training is core to making evidence management successful. The Tucson PD mandates its officers complete a four-hour course on evidence management. Evidence technicians must receive three months of training, and are on probation for at least one year.
Non-Recovered Stolen Property
Most law enforcement agencies produce external reports such as Uniform Crimes Reports (UCR) for the FBI. They reference both stolen/non-recovered and recovered property. Therefore, you should use a software program that tracks these categories. After all, stolen property that does not reside in the property room may be tied to a case or evidence if ultimately recovered. A tracking system tied to incident reporting, as with an RMS package, usually will handle this type of property reference. Stand-alone systems focused only on items physically in police custody may not accomplish this task.
Savings and Efficiency
Automating evidence management with dedicated software unquestionably saves time and allows for more effective use of property room personnel. Chico PD's property room saves more than 30 hours a week with its software, which means personnel now have more time to focus on purging evidence. At the Hamilton PD, Chief Bell reports his integrated solution is so cost effective that he no longer has to pay overtime for managing evidence in his property room. And in the Tucson PD property room, evidence superintendent Nancy McKay-Hills says her merged standalone/RMS system requires just 12 technicians instead of 18. For these agencies and others like them, evidence management systems have proven worth the investment.
Bob Galvin is a freelance writer based in Portland, Oregon. He writes about trends and technology impacting law enforcement.
RMS Software Providers for Evidence and Property Management:
Standalone Evidence Management Software Providers:
Integrity Management Solutions