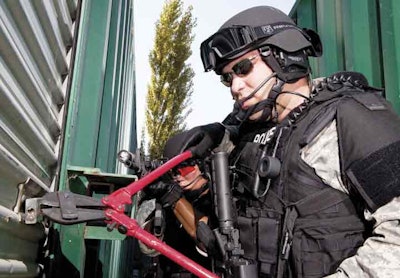 The evolution of tactical headsets has been a significant one. Within the past couple of years alone, we've seen great improvements in technology that affect some of the most important functions of a good unit: strong sound quality, comfort, and resilience.
Since tactical situations are taxing, with long hours and high stakes, officers should be able to experience exceptional situational awareness at all times without the burden of onerous equipment. There is a notable trend toward smaller and smarter devices that are discreet, lightweight, and progressive.
Notable technological advancements such as digital sound processing, improved bone conduction, and wireless solutions in addition to ergonomic design increase efficiency on the job and help save lives.
Ditch the Wires
More and more law enforcement agencies are integrating Bluetooth accessories and wireless devices into their communication. The growing technology helps increase covert security and eliminates some of a headset's wires for added comfort.
If the user is wearing a multi-paired headset, a Bluetooth connection allows him or her to switch back and forth between a cell phone and radio connection on the same unit. "It looks like they're an everyday 'average Joe' talking on their cell phone, but they're doing business; they're on a tactical surveillance mission," explains Andrew Gordon, director at E.A.R. Inc.
The Los Angeles Police Department's patrol divisions, in addition to certain specialized units, have been using Pryme Radio Products' PrymeBlu Bluetooth adapters, wireless adapters with Bluetooth 2.1 technology, since May. Working hands-free, the officers receive audio from their police radios and cell phones directly into their earpieces, says Dave George, president of Pryme.
The adapter can be set to give the police radio priority over any cell phone calls, or vice versa. That way, the operator doesn't have to juggle communication—the adapter will automatically mute the secondary audio.
Pryme is also in the process of designing a new product called a Bluetooth Headset Adapter. It's a small box that plugs directly into the headset, converting it into Bluetooth so an agency doesn't have to replace existing devices. "With budget cuts, technology is moving in a way that allows existing devices to simply be upgraded to wireless, which is a big trend we're seeing," says George.
CeoTronics Inc.'s CT-ClipCom Digital, the company's newest tactical headset, has a CT-Bluetooth adaptation feature built in for GSM/radio. "Bluetooth is happening in the operation environment itself," says Jack Darden, sales manager for CeoTronics. "It's crucial for supervisors; they might need to have cell communication with someone downtown while also having access to their radio communication."
Some tactical headsets on the market, like Threat 4's x-62000 series, have a wireless push-to-talk (PTT) button that can be worn anywhere on or off the body. According to Hank Minor, a sergeant with the Capital Region Emergency Services Team in Central Connecticut, his team members using the x-62000 wear the buttons on their fingers like a ring or attached to the stocks of their weapons for convenience. "In a tactical situation, the last thing you want to do is take your hands off your weapon to fumble with your radio," says Minor.
Digital Signal Processing
In many law enforcement applications, effective communication is key—a missed or misunderstood transmission can be catastrophic. In an effort to combat that prospect, many product developers are leveraging the latest digital signal processing (DSP) and compression technology to provide a clearer and truer representation of ambient sound and voice communications in any type of environment.
Although SWAT teams or first responders wear gear that allows them to hear ambient sound, one of the biggest problems they face in tactical situations is the inability to discern from which direction the sounds are coming. To get that precision, companies are incorporating hearing aid algorithms to the DSP to reproduce how the human ear hears. The device replays sounds inside the ear in a way that enables the brain to recognize directionality.
"Advancement in digital chip processing and logarithmic ability to understand vocal tone and put it into an audible signal has been widely improved within the last couple of years," says Gordon. "Math formulas simulate the way the ear works."
Another area that DSP is used for is hearing protection. Over the average officer's career, he or she will be exposed to many high-noise events, including gunfire, flash-bang scenarios and explosions. This technology reduces hazardous ambient sound to a safe level but still preserves situational awareness for the operator in addition to the headset's "talk-through" ability.
For example, the Liberator II, TCI's newest tactical headset, employs digital threat compression technology. Dual external microphones continually process ambient sounds and instantaneously provide up to 29 dB of hearing protection from harmful impulse sound while simultaneously providing the user with the continuous ability to hear one another.
The x-62000 uses a similar technology and Threat 4 has noticed that SWAT teams are particularly drawn to this function, according to Patrick Armstrong, CEO of Threat 4. "It functions like a hearing aid, but with hearing protection and radio connectivity," says Armstrong. "I could be shooting guns and then turn around and have a conversation without doing anything to the headset." The technology in the headset limits any noises above a certain decibel.
Although these adjustments occur automatically, some advanced tactical headsets include different hearing settings so users can control how much external noise they generally want exposure to.
DSP, along with the issued tactical headsets, will continue to evolve to become smaller and smarter with time, according to Jim Price, business development manager with Tactical Command Industries Inc.
Bone Conduction
Another way many manufacturers are trying to ensure clear and precise communication in even the most volatile environments is through bone conduction. While we've seen this technology in the marketplace for some time now, its advancement only continues.
Digital sound that works off of bone conduction through the ear canal, jaw bone, temple, or skull removes some of the background squelch found in certain analog systems. And because it's registering sound vibrations directly from the source—inside a user's head—clarity is automatically increased.
Many companies are moving to an inner-ear application. Pryme Radio's new Tactical Bone Conduction Headset features a microphone and speakers that vibrate the user's jawbone, transmitting audio directly into the inner ear, while E.A.R. Inc.'s WhipEAR has small transducers that pick up vocal tones from inside the user's ear canal itself, converting them into an audio signal.
These devices are generally more discreet with no need for adapters, which makes them easier to wear beneath helmets, with a respirator, or under various mask types.
Lightweight Systems
As some officers are on their feet for hours per day carrying close to 100 pounds of equipment, it's important that their gear be as easy to wear as possible.
"With headsets for tactical situations, lightweight and comfort come in second just behind situational awareness and crisp sound quality in terms of priorities," says Minor.
Numerous companies are moving away from metal head straps, instead utilizing lighter mesh. This is also less bulky and fits nicely under a helmet. According to Minor, although earmuffs provide good sound quality, they are generally painful to wear underneath a helmet. Therefore he and many of his colleagues are transitioning to in-ear units.
Use of lighter materials is another way in which advances in headset technology are improving law enforcement officers' ability to do their jobs.
Related: