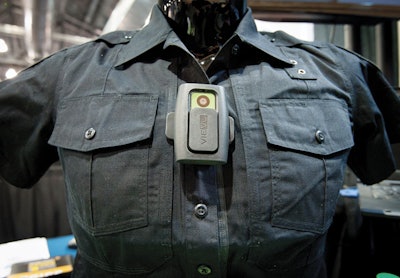 Vievu's LE3 is the company's latest small, lightweight, self-contained video recorder system. About the size and weight of a pager, this on-body video system can easily be worn on an officer's uniform.
The LE3 has better battery life and it can be fitted with an optional external battery pack for even more additional onboard storage and more memory (16GB) than previous Vievu models. It captures video in either high definition (1280x720) or standard definition (848x480) through a 68-degree field-of-view lens. Some experts say this field of view is best for forensic video.
One of the strong points of the LE3 is its simplicity and ease of use. Like previous Vievu systems, it's self-contained with the battery, camera, and memory in one neat little package. This can be seen as an advantage over other body-worn cameras because there are no wires to manage and it takes up no room on the gun belt. The 68-degree field of view isn't ultra wide, but it does a nice job of capturing what's in front of you.
Quality expectations must be tempered when using such small camera systems, but the LE3 captures quite good quality video and audio. The digital files far exceed the quality needed to document the actions and sounds of a police contact.
Another thing I like about the Vievu LE3 is its ease of use. To turn it on, all you have to do is slide open the lens cover. This slide-to-open "on switch" provides the user with a no-look way of ensuring that the camera is on, which is an advantage over the units that require you to press an on button and then look to see the recording light to determine if they are operating.
The LE3—like all Vievu body cameras—clips onto the front of a uniform shirt or vest carrier, making mounting easy. With ease, however, comes some challenges. You have to clip it so it is oriented correctly or it may not capture the action in front of you. If you have a vest carrier over the shirt, then the rigid panels may cause the camera to cant to one side. There's no display on this unit (or any other body-worn camera at this point), so you have to eyeball it to make sure it is oriented properly.
Batteries in any body-worn video system used in law enforcement have to be able to handle about a 10-hour shift of recording contacts and standing by. The LE3 has improved battery life over the LE2, offering about five hours of recording time with the internal battery. If you get the optional high-capacity battery pack, it can record up to 12 hours of video. Standby time is never an issue with any system, unless you go for many days without charging it.
One of the biggest concerns for any agency that is evaluating an officer-worn video system is the back-end software for managing the field videos. Vievu's Veripatrol software is easy to install and use with an intuitive interface that doesn't require much orientation to get up and running. The video is recorded in MPEG-4, H.264 AVI files that are easy to manage in the software. They are recorded with an embedded date/time stamp. The software is designed to securely manage files until they are uploaded into secure storage. In addition, a recent partnership between Vievu and Net Transcripts lets Vievu users quickly upload encrypted crime scene footage or interviews and request transcription for files stored in the database.
Body-worn video cameras are still being refined, with each generation better than the last. And it's important to remember that no one company offers the best product for all situations. Like anything else, there are compromises that have to be considered.
The strengths of the Vievu LE3 are its solid performance and simplicity of use. That's important when you are talking about a system that is with an officer 40 hours or more a week.
There are also some weaknesses as well. The mounting system isn't the best available, and the officer has to monitor where the camera is pointing to ensure it is capturing the right scene. But the mounting system isn't all bad. Unlike some other officer-worn video units, it clips on your shirt and is ready to go in seconds. Other systems may have better mounts, but they have wires and separate battery packs that have to be managed and can get in the way.
With the LE3, Vievu has made solid improvements to its video and audio quality, addressing a common complaint for these small cameras. Low-light performance is also very good, as the hardware and software work well together to limit noise in low-light situations.
The Vievu LE3 lists for $899. Veripatrol is free for all Vievu customers. Vievu also offers what it calls the Straight Shooter 25 plan, which allows agencies to pay $25 per month per camera. The Straight Shooter 25 plan includes—in addition to the camera—Veripatrol secure file management software with in-car mobile viewing and free cloud storage access.
Vievu LE3 On-Body Video System Specs:
Selectable HD (1280×720p) or widescreen SD (848×480p) resolution
Enhanced image quality and low-light capability
5-hour record time with internal battery, 12 hours with optional battery pack
16GB of internal memory
Mute functionality
Local time or GMT date-and-time stamp
Digital signature security
68-degree field of view
Waterproof (IPX5)
Compatible with Windows XP, Vista, 7, and 8
Dimensions: 3x2.1x.85 inches
Weight: 2.8 ounces
Price: $899