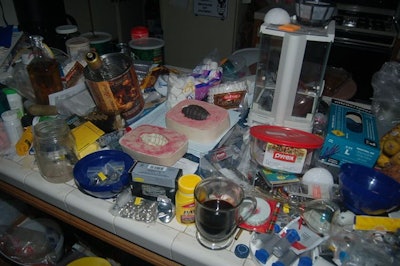 The bomb squad of the San Diego County Sheriff's Department will oversee the destruction of an Escondito house that yielded what is believed to be the largest single discovery of homemade explosives in the U.S., reports the Associated Press.
After uncovering crates of grenades, mason jars of white, explosive powder and jugs of volatile chemicals in the home, authorities say the only safe method is to burn it to the ground.
The sheriff's department plans to destroy the home on Wednesday, if weather permits. Chemicals in the house include hexamethylene triperoxide diamine (HMTD), erythritol tetranitrate (ETN), and pentaerythitol tetranitrate (PETN), which was used in the 2001 airliner shoe-bombing attempt.
On Monday, George Djura Jakubec, 54, pleaded not guilty during his first federal court appearance, saying he was depressed that he would lose his possessions, reports the San Diego Union-Tribune.
Gov. Arnold Schwarzenegger has declared a state of emergency as a result of the discovery of the bomb factory.