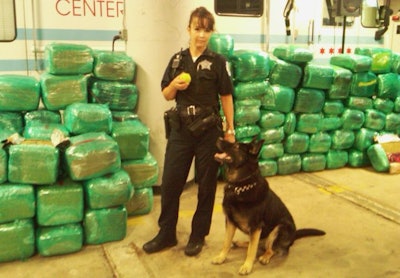 An investigation led by a Chicago Police narcotics unit has culminated in the seizure of $33 million in bundled marijuana that was headed to South Side Latino street gangs for distribution.
More than 12,000 pounds of pot was seized on the city's west side on Monday afternoon in vehicles and at a storage warehouse, Chicago Police announced.
Seven men involved in the transport of the narcotics were arrested and officers seized seven vehicles and two firearms.
Chicago narcotics officers initiated an investigation after receiving information that a drug trafficking organization linked to several street gangs was storing and distributing large quantities of narcotics in several areas of the city, Lt. Maureen Biggane tells POLICE Magazine.
The officers eventually identified a warehouse in the 1000 block of S. Kolmar Ave. and conducted surveillance.
On Aug. 22, officers stopped a cargo van that was observed leaving the grounds. Officers discovered nearly 2,500 pounds of cannabis inside the vehicle. A search of the warehouse resulted in finding almost 9,800 additional pounds of cannabis. The seizures were coordinated with the gang enforcement unit, gang intelligence unit's tech lab, K-9 officers, and SWAT.
Seven offenders have been charged with possession counts, including Sotero Salazar, 43, of Chicago; Manuel Sanchez, 37; Calderon Sandoval, 25, of Grandview, Wash.; Jesus Munoz, 20, of Woodville, Calif.; Ruben Salazar, 37, of Chicago; Salvador Lopez, 28, of Boorsville; and Daniel Saucedo, 36, of Chicago. Sanchez was also charged with trafficking more than 5,000 grams.
By Paul Clinton