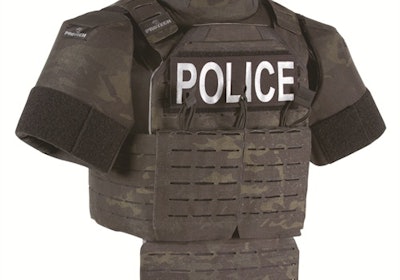 Protech Tactical will unveil the Shift 360, an innovative scalable armor system, at the 2015 SHOT (Shooting, Hunting & Outdoor Trade) Show in Las Vegas this week.
In its simplest form, the Shift 360 is a sleek plate rack armor carrier. By adding accessories such as panel inserts, outer cummerbund, yoke and lower abdomen/spine protection for a variety of configurations, officers can fully customize their armor for mission-specific requirements. In addition, accessories such as hard armor plates, ballistic belts, tactical pouches and vest support system can further complement the Shift 360's platform.
"The Shift 360 is the fastest and most dynamic situational scalable armor system on the market," said Todd Mackler, vice president, armor for Protech. "As a law enforcement officer's protection needs change depending on the mission, the Shift 360 changes with them."
Featuring forward-thinking materials and technology, the Shift 360 brings choice and flexibility to officers' protection, allowing them to bring exactly the features they need in the field. The armor and accessories are available in a wide variety of colors and finishes.
The Shift 360 will be available for the first time at The Safariland Group booth #12762 at the SHOT show Jan. 20-23 at the Sands Expo Center in Las Vegas, Nev.
For more information about the Shift 360, please click here.