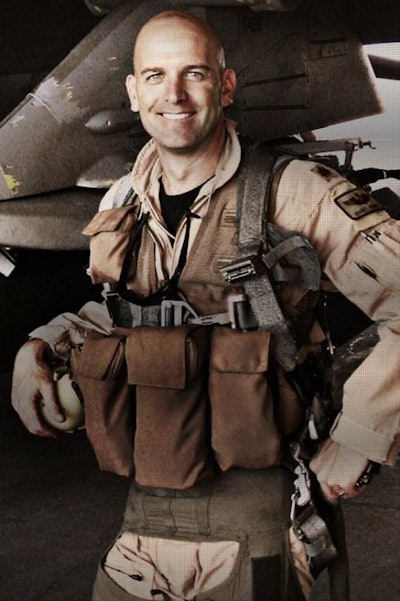 The National Tactical Officers Association (NTOA) has announced that Major Dan Rooney, USAF, will be the keynote speaker at the 2016 Tactical Conference Awards Banquet, to be held Wednesday, Aug. 17, 2016. The 33rd annual Tactical Operations Conference & Trade Show will be held Aug. 14–19, 2016, at the Galt House Hotel in Louisville, KY.
Rooney is a highly sought-after motivational speaker who exemplifies the very best of the American spirit through his many philanthropic endeavors and service to our country.
An Aggressor fighter pilot with the 301st Fighter Squadron for the United States Air Force, Rooney served three combat tours in Iraq and is the founder of the Folds of Honor Foundation, The Patriot Golf Club and Patriot Golf Day, a PGA golf professional and author of "A Patriot's Calling: Living Life Between Fear and Faith."
A Major in the Air Force Reserve and a decorated military aviator, Rooney is a two-time recipient of the "Top Gun" award and was honored with the "Spirit of Attack" award as a top graduate of F-16 training. He was a vampire (night duty) in Operation Iraqi Freedom. He has received many decorations, including the Air Force Commendation Medal, Air Medal, Anti-Terrorism Medal, Combat Readiness Medal, and Air Expeditionary Medal. For his service and patriotism, Rooney was presented the White House's Presidential Volunteer Service Award by President George W. Bush, the Air National Guard's Distinguished Service Medal, the Air National Guard's Directors Service Award, and the Ellis Island Medal of Honor.
Rooney has also been recognized as one of People Magazine's Heroes of the Year, Money Magazine's Hero of the Year, and ABC World News Tonight's Person of the Year. Read his full bio here. Watch an introductory video here.
Registration for the 2016 NTOA Tactical Operations Conference and Trade Show is open to all active law enforcement officers.
For more information on the National Tactical Officers Association, visit www.ntoa.org.