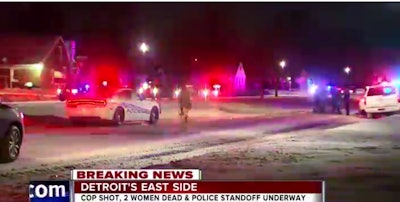 VIDEO: Detroit Police in Standoff with 2 Barricaded Gunmen, Officer Wounded
A Detroit police officer was shot in the knee and two women have been killed during a barricaded situation on the city's east side that police say now involves two gunmen is adjoining houses.
It happened around 10:00 p.m. Sunday on Lamont Street near 7 Mile and Mound Road. It is still going on as of 5 a.m. Monday.
The officer was taken to the hospital. He's listed in stable condition, WXYZ TV reports.
Shots have come from both homes, but officers have only made contact with one shooter.
The gunman reportedly suffers from mental illness, Assistant Chief Arnold Williams said at a press conference. He's also a valid CPL holder who owns at least seven guns, and reportedly told authorities he "won't go down without a fight," the Detroit News reports.