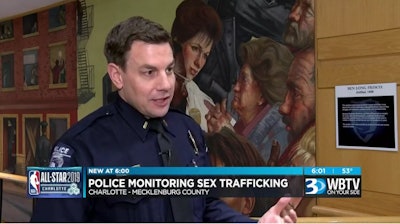 The NBA All-Star game will be played Sunday night in Charlotte, NC. Much of the city is celebrating the game and other competitions that surround it, but Charlotte-Mecklenburg police are concerned about the darker side of such big sports events, namely human trafficking.
Trafficking comes in many shapes and forms according to exploiting people for sexual or labor purposes—they call it a modern-day form of slavery. During big events, police say traffickers take advantage of hot spots like sports venues, hotels and areas just outside main interstates that can turn into easy areas for trafficking—all areas you can expect NBA All-Star weekend events.
"When I drive by a hotel sign, I don't see a hotel sign. I know that there is someone being trafficked. So, there is work that needs to be done," Joy Anderson a Victim of sex-trafficking, told WBTV.
Anderson was rescued about five years ago during a trafficking sting at a hotel in Charlotte. North Carolina ranks within the top 15 states for Human trafficking and police say there's at least one human trafficking sting a month in the city.